Dreaming of a green Christmas
With a little research, we can keep Christmas full of good cheer while still making ethical and sustainable choices.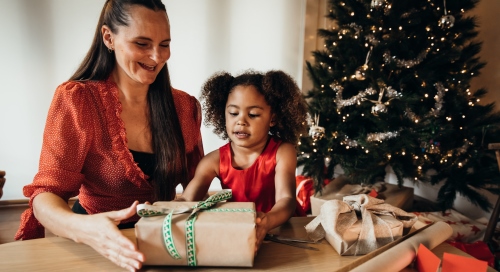 As we prepare to take time out and enjoy Christmas with friends and family it's worth considering the environmental impact of the silly season.
Rethinking our Yuletide consumption habits doesn't mean we have to give up on a wonderful Christmas; it can even remind us of what the season is really all about. By revisiting some of the core aspects of social gatherings and sharing gifts at Christmas, we can renew ourselves for a more positive outlook on the approaching New Year.

Here are four areas where we can reframe our thinking this Christmas.
Gifts
The fundamentals of gift giving at Christmas can be a lovely reminder to celebrate those around us and show them how much we care. So how do we balance the magic of giving with the need to cut waste?

Sustainable options: A great starting place is to stay informed on ethical and sustainable options – or at least which options to avoid. Sites such as GoodOnYou.eco rate fashion brands on their sustainability credentials. Even glitter – traditionally made from plastic –has eco alternatives available from outlets such as Three Mamas.

Experiences instead of stuff: A 2016 study by two psychologists popularised the idea of buying experiences rather than things. The study showed that people usually feel happier over a longer period after doing something special instead of purchasing new objects. Tickets to events or unique experiences can be a great way to give a gift that creates a lifelong memory.

Doing good: Charity greeting cards are another great option, with the proceeds going directly to help those in need. They can often be paired with a gift that also donates money directly to a worthy cause. Gifting a new well for a community in need of clean water can be more heart-warming than socks or chocolates.
Buy local: Local markets are often full of great gifts, card and wrapping options at this time of year so you can support small, local makers. When we buy local, we also reduce a gift's shipping footprint.

Recycled wrap: As for presentation, keep in mind what can be recycled or reused to help reduce waste. Avoid plastics and use recyclable wrapping paper (shiny coatings are often made of plastic). Alternatively, present your gift in a bag that can be reused – this can be just as festive without adding to the season's landfill.

Food

Industrially farmed meats are a big source of carbon emissions and land use, so reducing their presence at the dinner table can have a positive impact. Less red meat and a shift toward fish from sustainable sources can be a delicious adjustment. You can explore seafood options at GoodFish, a guide to sustainable seafood.

In 2019, companies such as Impossible Foods, which makes "meat" from plant-based proteins, have leapt into the foreground. Attitudes are changing, and fake-meat burgers are becoming an appetising alternative. 

And just like shopping for gifts, head to your local farmers' market to get great local produce that hasn't been shipped long range to reach you. It's another way to reduce that carbon footprint while supporting local growers and makers.

Decorations

Most people are good at keeping a collection of decorations that they bring out each year then pack up for reuse. Plastic tinsel and baubles aren't so bad for the environment when they're reused over decades in a family home. 

But as we head into the future, choose decorations made from natural materials, such as wood, that can lend an old-style charm with the bonus of a lower impact on the environment.

If you're buying new Christmas lights, opting for LED keeps things merry and bright with a big power saving to boot. Outdoor lights now come with solar panel options that make it much easier to set them up anywhere in the garden or on the house, safe in the knowledge they won't add to your power bills or carbon footprint.

Giving back

Volunteering over the Christmas season is another great way to remember what matters most, and to remind ourselves to worry less about the "stuff" we give and receive and make it about the time we spend with others. 

From creek clean-ups and tree plantings to helping at homeless shelters or elderly events, getting out and away from the usual routine can refocus us all while building amazing memories and new traditions.