WHEN WOMEN THRIVE
"Women are one half of the world's population. They deserve equal access to health, education, earning potential and political empowerment, because ultimately, gender equality is a vital part of humanity's progress."
- Executive chairman of the World Economic Forum Klaus Schwab
True gender equality is still decades away - if we keep doing what we're doing.
Or we can change what we're doing.
In 2014, Mercer launched a groundbreaking report designed to help boost women's workplace participation, particularly at the highest levels of business.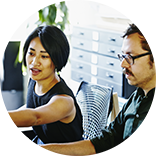 When Women Thrive Businesses Thrive, a research report based on a massive study of 1.7 million workers from 164 organisations in 28 countries, shows the link between women's workforce participation and economic growth has never been clearer.
More than 50% of today's global university graduates are women, yet women only make up 41% of the global workforce and account for just 26% of senior managers. Only 19% of executives worldwide are women.
Mercer's North America President, Patricia Milligan said the When Women Thrive report was designed to help organisations think differently and do better.
"It's time for tangible solutions, not just talk. Standalone programs and initiatives are not advancing gender diversity," Ms Milligan said. "It's time for programs and policies that consider and support the career, health, and financial well-being of women across every phase of their professional journey."