There's a saying on Wall Street, home of the New York stock exchange, that share markets are driven by just two emotions: fear and greed.

That's not the whole truth of course – markets are complex beasts driven by many inter-related factors – but it is a truth.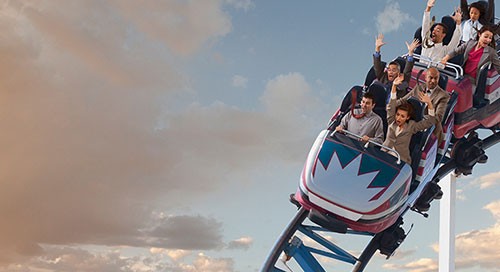 Share markets are driven by just two emotions: fear and greed
The fear gauge
Sentiment is so important it has its own widely followed index; the Chicago Board Options Exchange Volatility Index, or VIX, more commonly referred to as Wall Street's "fear gauge".
The VIX measures market volatility expectations over the next 30 days. It uses the price of options linked to the S&P 500, a basket of some of the largest listed companies in the US, and is reported on a scale of 0-100.
The lower the score, the lower the likelihood of short term market volatility. Unsurprisingly, the VIX is usually at its lowest when the markets go gang busters and at its highest when markets fall.
During the 2008 Global Financial Crisis, for example, the VIX reached scores of 80 plus. Over the past year, the index has dipped beneath 10, a 23-year low, and the S&P 500 hit record high returns.
Then there's CNNMoney's famous Fear & Greed Index, a measure of investor sentiment that looks at the VIX as well as six other key market indicators, including stock prices and demand for "safe haven" investments like bonds.
Is this the calm before a storm?
According to CNNMoney the Fear & Greed Index shifted from flashing "greed" signals in mid-July 2017 to showing signs of "extreme fear" in Mid-August amid concerns about the Trump presidency and its inability to get business-friendly economic plans through Congress.
Meanwhile, escalating rhetoric by the US and North Korea in mid-August caused the VIX to jump above 15 for the first time in six weeks.
Some commentators are concerned investors have been complacent rather than calm and that there's potential for a big sell-off in the near future. They refer to a similar pattern of behaviour around the time of the global financial crisis: the VIX was very low in 2007 but shot up in 2008 and investors sold, sold, sold for the next two years.
Other market watchers, including John Higgins – chief markets economist at Capital Economics – don't think a big drop is on the cards under current conditions.
Higgins says no market correction is forecast in 2017 or 2018, but concedes a big downturn is possible in 2019 when tighter US Federal Reserve policy is likely to put the brakes on consumer demand.
"Until then, we suspect that volatility will stay unusually low, even if it spikes from time to time," Higgins says. "In the meantime, we doubt tighter Fed policy, US domestic politics or global events will trigger a big correction in the stock market."