We all know Australia's population is living longer, yet many of us are failing to plan adequately for life well into our 80s. We dig into the issues.

Millennials may be branded the "live for the now" generation, but older people in Australia aren't much better at saving for retirement. Research shows many older people fail to factor increasing life expectancy into their retirement nest eggs and will not have enough money to live comfortably in their twilight years. And as Australia's population ages, the burden on the public purse will be immense.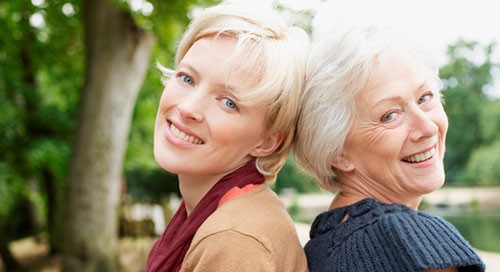 Australians are urged not to turn their backs on their future selves
Part of the problem appears to be psychological. We can't bear the thought of dying young, yet nor can most of us imagine the alternative inevitability of growing old and frail, and this mental chasm is inhibiting many of us from making sacrifices today so we can save adequately for tomorrow.
"People take the present more seriously than the future and regard very old age futures negatively," the National Seniors Australia 2018 report Hope for the best, plan for the worst?, says. "They don't necessarily think about their 'future self' in a nursing home as the same person as their 'current self'."
Living longer
The report found only half of older Australians had prepared financially for living longer, despite 85 percent being aware of greater life expectancies. Australians aged 65 today are expected to live six years longer than they were in the 1980s, with life expectancies for men now 80 years and women 85 years.
Couples will need $640,000 in savings at retirement ($545,000 for singles) to live comfortably until age 90 according to estimates from the Association of Superannuation Funds Australia. But most fall well short. National Seniors Australia tells us the median asset balance of retirees is just $300,000.
"The killer is that most people don't plan to spend more money in later life," says National Seniors Australia research director and report co-author, Professor John McCallum. "Only 3 percent [of seniors] think about spending more later when we know the costs can be higher – the nursing home costs, the care costs, the need for help and so on."
Retirement savings shortfalls inevitably force more people to rely on the age pension and the public health system. A Productivity Commission Report released in January 2018 found the federal government spent $17.4 billion on aged-care services last financial year, accounting for more than half of community services expenditure.
Incentive ideas
So how do we boost people's retirement coffers? There's the 'carrot' approach: raise awareness and access to retirement products, encourage people to seek financial advice and increase savings incentives. Then there's the 'stick' approach, which could involve raising the retirement age to 70 (or more), increasing the superannuation contribution guarantee above 10 per cent (putting downward pressure on wages) and other regulatory initiatives.
Longevity risk, or the problem of outliving retirement savings, is a key concern. In the National Seniors Australia report, most survey respondents supported longevity insurance in super, or paying 10 percent of their retirement savings to receive an income for life after 85.
Professor Roger Wilkins, deputy director of the University of Melbourne's Household, Income and Labour Dynamics in Australia survey, says other options for funding Australia's growing ageing population include imposing income tax on superannuation drawdowns to encourage retirees to make their savings last longer, and expanding the asset test for the age pension to include the real value of the family home.
"I think it's a legitimate question: should we be using the working-age population's hard-earned money that is going into taxes to support the elderly to die with $3 million homes that they pass on to their kids? Where's the equity in that? It would make much more sense that the person in that $3 million home was accessing the equity in that home to fund their retirement rather than the public purse."
Complex variables
Wilkins says psychological factors influence retirement planning, but other complex variables are also at play. "It's inherently a really difficult assessment to make for individuals: how much they need to save to achieve a comfortable retirement," he says.
"Even if you knew how long you would live, there are all sorts of sources of uncertainty: what rate of return will you get, what will the tax system look like, how is your health going to hold up?
"I have no doubt there is that cognitive dissonance. Retirement planning can be quite confronting, it forces you to confront your own mortality. It is also really hard to do well," he says.
As the Hope for the best report notes: "A whole-of-life approach to this is desirable, with better accumulation of superannuation, particularly for women, and better financial products to allow people to self-fund long-term care and other options later in life.
"Currently, Australians appear to be hoping for the best but will certainly need help in planning for the worst."