There are those who meticulously plan for those fabled 8,000 days of retirement – maybe it's travel, maybe it's writing a novel, maybe it's a lot of golf, maybe it's learning French or Italian, maybe it's taking an adult education cooking course.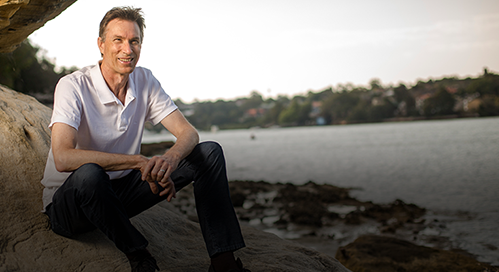 And there are those who will wait and see what they want to do when those years arrive, or 'play it as it comes'.
At 57, Doug Kraa from Sydney knows where he sits on it. "I must be in that 'play it as it comes' group'," he says.
Like many Australians in their mid-late 50s, Doug is still deeply engaged in his work, and the idea of slowing down or stopping work is not on his horizon. Doug is still full-time in a challenging role he enjoys, as head of property at credit reference agency Veda, the largest in Australia and New Zealand, where he looks after solutions around property data. He can't yet see what those "retirement" days might look like. "I'm still focused on what I can achieve with work for a few more years," he says. "Another 10 years for that."
He's not alone. Retirement was once something people looked forward to enormously. Its appeal lay in the idea of stopping work, and also a chance to pursue activities and hobbies that a busy working life had maybe precluded.
Now, life is viewed differently. Work is increasingly seen as "engagement", a satisfying element in one's life, not something to discard. And we are healthier and living longer. The ubiquity of the phrase work/life balance is testament to the emphasis we are now putting on a life outside work, and the fact that we are thinking more deeply about how we spend our time and where we place our energies.
The Sydney Morning Herald reported in April last year that Australian Bureau of Statistics Figures showed the number of over-45s who say they will not retire before turning 70 has dramatically increased, with senior groups saying the figures indicate people are ageing in a much healthier way and want to keep working.
Doug successfully juggles his working life with time spent with his family, friends and, increasingly, in keeping fit. He has had a long career working in technology solutions in the property industry, including building solutions for mortgage broking – he worked as a mortgage broker for a few years – and at Macquarie Bank helping develop platforms.
Doug and his wife Karen lived in Coffs Harbour for around 30 years before moving to Sydney a year ago. Their three grown-up sons have moved out which triggered the idea of a move to the city. "I thought 'Save the commute, move to Sydney'."
While he misses the slightly warmer climate of Coffs and living right near the beach, he is enjoying Sydney and is availing himself of the opportunities to get outside and exercise. He has taken up bike riding, giving a good wash down to a mountain bike one of his sons no longer uses. But he's no lycra obsessive. "I've just taken it up as a form of exercise," he says. "I found I wasn't very fit with the hills around the area."
Cycling is, of course, a boom sport among Doug's demographic, who see a chance to gain some fitness in a fun, collaborative activity (not to mention the coffee and chat at the end). And while he found he was quite a way from the fitness of the riders in the Tour de France, it is an event he enjoys watching each July. "It's fascinating watching those guys," he says. "I struggle with an incline. You watch those guys riding up hills I'd be flat out walking up."
Doug is passionate about Formula One racing, with a particular interest in Australian driver Daniel Riccardo. "He's a great personality, a good honest racer, very skilled. His skill and humorous outlook on life is very positive for the sport."
Doug travelled to Melbourne last year to attend the F1 Grand Prix at Albert Park, noting that it was now a slightly quieter event. "The noise of the cars isn't what it used to be so from that perspective it's not as exciting as hearing the roar of the engines they used to have," he says. "You don't need earplugs, put it that way. I think they're going to try and make them a bit louder next year again."
Doug and his family enjoyed the scene around the Grand Prix circuit – the cafes and restaurants. Doug and Karen's youngest son moved to Melbourne to study three years ago, which gives them extra impetus to travel down to visit and experience the restaurant and café culture around the bayside circuit including catching up for coffee at hip South Melbourne stalwart St Ali café.
There will be a day in a decade or so when Doug decides work will come to an end. Pressed on those "8,000 days" of retirement, Doug says he has not yet travelled to Europe and has a list of places he'd like to see, including Paris with its evocative boulevards and great cafes.
And he'd like to witness up close the carnival atmosphere of possibly the world's premier cycling event the Tour de France. He admires Australian 2011 Tour de France winner Cadel Evans for his dogged persistence and guts in putting 20 years into such a grueling sport. "It takes huge determination to work all those years to get to a pinnacle like that," Doug says. "The work that goes behind the scenes for events like that is incredible. I give a lot of credit to him to persevere and achieve that."
As a sports lover – cricket is another favourite - he admires the preparation athletes need to put in. "The hours and hours of training that people don't see."
While in Europe Doug would like to visit Holland where his father was born and to drive across Europe, from the Alps in northern Italy down to Spain. These are dreams that are made real when there's time to savor them, and the "8,000 days" may be that time.
But it's not all about being away from home. Doug loves eating out and as a pescatarian (Doug's wife Karen is vegetarian) Sydney has many great options. He also looks forward to spending more time at home trading in currencies and shares. "I enjoy understanding the markets and how they work and behave," he says.
For Doug, the chapter we once called "retirement" isn't on his mind. Like an increasing number of people his age, Doug is happy in his current chapter, with so much more to do and achieve before the 8,000 days begin.
But when they do, there's a long road in Italy that's waiting.