As young people struggle to accumulate savings and get into the housing market, there's one vital factor that can nudge them into the black: generous parents with the means to help.
How willing older parents are to share their accumulated wealth is a matter of debate.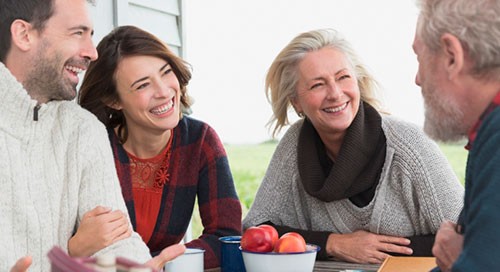 According to a 2017 Merrill Lynch retirement study in the US, "giving while living" is becoming more the norm, with 77% of retirees surveyed believing it's better to pass on inheritances while still alive.
But research from National Seniors Australia shows leaving money for the kids is no longer a top priority for older Australians.
A little parental boost goes a long way
Researchers for the Australian Housing and Urban Research Institute (AHURI) used 15 years of data to determine the overall benefit of an inheritance or cash gift for generations X and Y.
Report co-author Gavin Wood says the evidence is overwhelming; those who received an inheritance or cash succeed in accumulating more wealth and acquire a first home faster than those who did not.
Wood says those who received a gift or inheritance in 2001-2002 had $500,000 in net wealth by 2015, whereas those who did not had around $300,000 to their name.
"The phenomenon is important: the earlier you receive the more wealth you accumulate," Wood says. "What we are creating is a society in which your chances of being a homeowner are in part contingent on whether your parents can help you. This is the first generation who we can definitely say that about."
The great unknown
But generosity must be balanced with the needs of a potentially long life in retirement. The world is an uncertain place and when you hit retirement you have no idea how long you will live or how long the money will last.
People retiring today are likely to live well into their nineties and the 100-year life will be a reality for many. Current life expectancy estimates are that Australian females have a 55% chance of living beyond 90, whilst males have a 42% chance.
According to Mercer research, 50% of retirees are likely to outlive their savings by more than five years – 25% are expected to outlive their savings by 10 or more years. Australians today need to plan for a period of retirement that might last a quarter of a century or longer.
Professor John McCallum, National Seniors Research Director, says almost half of senior Australians are concerned they will outlive their savings: 34% are worried savings will run out and 14% are extremely worried.
"The need for regular income to avoid running out of money and, to pay for aged care and medical costs, is far more important for older Australians," McCallum says. "Bequests are not central to planning for their retirement and senior Australians are weighing these up against other trade-offs they must make to deal with longer lifespans."
The report, based on a survey of 5,770 Australians aged over 50, found only 3% intend to preserve all their savings for an inheritance and only 23% rated leaving money for the kids as very important.
Ask your adviser
Your Mercer financial adviser can help structure your financial plans to suit your needs and ambitions, including providing financial assistance to your children. Book time to speak to your Mercer financial adviser, call 1300 850 580.