Grey expectations: Late retirement comes of age

Many of us will be in the workforce until we're 70. We analyse the challenges and opportunities for older workers and their employers.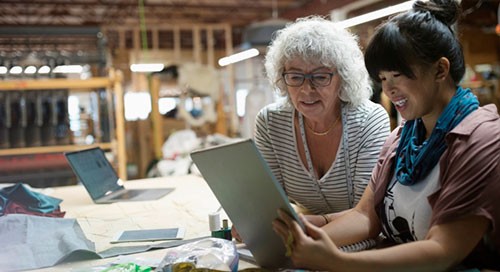 It was once the retirement dream of every working Australian: a golden handshake at 65, the pension and soft-filtered twilight years featuring sunset strolls on the beach. But now the retirement bar has been raised, and Australians are living and working longer than ever.
While the Liberal government has formally abandoned plans to raise the pension age to 70, many people are planning to work past the traditional retirement age. Whatever their reason for remaining in the workforce, the rising number of older workers is changing the face of the modern labour market.
According to the latest employment data from the Australian Bureau of Statistics, the average 45-year-old in Australia intends to work until age 65, up from 63 a decade ago. In the same period, the number of over-65s still working has increased from 9% to 13%.
The figures show sales workers have the highest average retirement age expectancy (66 years), while those in community and personal services have the lowest (64 years).
Delaying tactics
For some, working into their late 60s is a choice. For others it's a necessity if they want to sustain a decent standard of living in retirement. With today's average life expectancy 85 years for women and 80 for men, many people in Australia are at risk of outliving their nest eggs.
Forecasting a growing welfare burden and labour shortfall, the Federal Government has introduced measures to encourage people to delay retirement.
Access to the age pension will rise from 65 years to 67 by 2023. Access to superannuation is also set to rise from age 55 to 60 by 2024.
Philip Taylor, Professorial Fellow at the University of Melbourne School of Social and Political Sciences, says Australia's rising retirement age is consistent with patterns in other developed nations. And while public policy has had an impact, there are other factors at play.
"People want to work and perceive that they need to work; people are worried about the sustainability of their pensions, so they think 'I'd better stay for as long as possible'," Taylor says. "Governments want people to work and industry needs labour."
Taylor says people in manual jobs, those who are low paid, and have limited skills and education or chronic health conditions risk becoming "de facto retired". In other words, unemployed but not yet able to access the pension or their super. "There are many workers for whom working longer is viewed with great trepidation," he says.
Employing older people
The Federal Government has introduced schemes to incentivise employers to hire mature workers. This includes the Restart program, which pays employers $10,000 for hiring a job seeker 50 years and older. But balancing payroll demographics is a cultural challenge.
Taylor says the digital revolution and the changing nature of work is displacing many older workers and there needs to be a focus on education and life-long learning to help them make the transition to longer employment.
"It's a much more complex issue for older workers than just getting rid of age barriers," he says.
Alison Monroe, director of recruitment consultancy firm RiseSmart Australia, says those over 45 can take twice as long to get a job as younger job seekers.
Monroe says lifelong learning, digital literacy and maintaining professional networks are critical for older workers.
"People who have longer tenure and are perhaps the other side of 50 do face some barriers to re-entry into the workforce," Monroe says. "Some of the risks for mature-age workers include not staying current, not staying connected and not staying marketable because you've not updated your skills.
"The conversation needs to shift from talking about perceived discrimination and ageism to career transition, workplace equality and opportunity."
Talk to your adviser
Your Mercer financial adviser can help you balance your budget and determine how long the money will last, so you can plan just how long past 60 you need or want to work.