Great workplaces have good mental health

Many people struggle in silence with a mental health condition, so it's time to understand how best to look after each other – and ourselves – at work.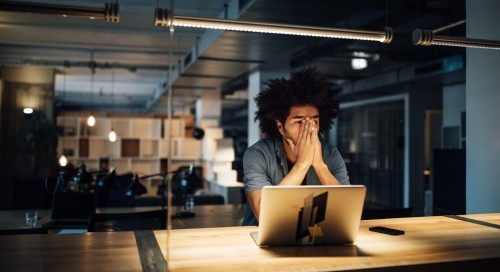 In most workplaces, nobody thinks twice about discussing how they feel physically. You call in sick when you've got the flu or take off time to recover from a broken limb. But what about your mental health? Would you tell your boss you need a day or two off because you're feeling stressed, anxious or depressed? If you're like most people in Australia, you'd probably keep that to yourself.
And yet, according to a recent report published in the Australia and New Zealand Journal of Psychiatry, mental illness is the leading cause of long-term workplace absence. What's more, it's associated with a rise in "presenteeism" – when an employee shows up for work while struggling with their symptoms, unable to function at full capacity.
"In Australia, employees with mental ill-health are more likely to be absent from work and less productive when at work, with one in five taking time off each year due to feeling mentally unwell," the report states.
This is a big deal when you consider that at any given time, one in five people in Australia is living with a mental health condition, and nearly half of us will experience a mental illness at some stage in our lives. The impact on people, employers and society at large is significant and the cost is huge: according to that same report, mental illness has overtaken physical illness as the leading reason behind the disability support pension.
Yet the stigma around mental illness prevents people from speaking up about it. Here are some tips about what you can do if you're suffering from mental health issues, and how employers can help support staff and promote mental health and wellbeing in the workplace.
What employers can do
Sarah Brown, Mercer Marsh Benefits leader, Pacific says employers and team leaders need to make mental health a top priority and build protocols around it. "Prevention is part of the risk-management strategy of all forward-thinking employers," Brown says. "Take steps to enhance the mental health and wellbeing of both your healthy and at-risk employees by understanding psychological risk factors posed by specific roles, minimising psychological hazards, providing individual wellbeing and resilience programs, managing occupational violence and bullying, and ensuring early intervention and support by managers."
Aimee Gayed, a PhD candidate in the workplace mental health research team at the Black Dog Institute, says employers should take notice of changes in an employee's behaviour or performance.
"Mental illness can be misunderstood as poor performance and mismanaged as a result, which can enhance the social and financial impact for the individual," Gayed says. "It can also impact on an individual's recovery.
"When managers and organisations have appropriate policies and procedures in place to support staff during a period of mental illness, the positive social and financial effects can be seen for the individual and the organisation."
A key step, Gayed says, is for team leaders to schedule regular one-on-one catch-ups with each staff member to build rapport and create an ongoing opportunity for discussion – whether it be about how they're managing their role and have the resources they need to achieve that, or to talk about mental health issues.
"Creating a safe environment where mental health and wellbeing is openly discussed can help individuals manage their mental health and support others too," she says.
What staff can do
Most of us spend a substantial part of our days at work, so it's vital to be aware of the impact that your workplace, and your role within it, may have on your mental health and wellbeing.
You don't have complete control over your work environment but there are steps you can take to help you self-manage: take regular breaks during the day; keep to reasonable working hours; schedule meetings only during working hours; take your annual leave; negotiate flexible work arrangements if you can; and avoid taking work home with you.
"Having time away and interests outside of work can also help keep you well and maintain your productivity at work," Gayed says.
How technology can help
Thanks to smartphones and wearable fitness trackers, you can keep on top of your physical and mental wellbeing – widespread research tells us the two go hand-in-hand.
If you are struggling with your mental health, you can also access a wealth of online resources and apps to help assess your state of mind, address your issues and engage in real-time crisis counselling.
Gayed recommends HeadGear, an app that can help you strengthen your mental health and stay well; RAW Mindcoach, an evidence-based e-learning program created to develop vital psychological skills and boost resilience; and MindSpot, a free service that offers assessment and treatment courses, and helps people find local support.
You can also go to Mental Health Online for self-help tools and therapist-assisted treatments to help you cope with mental health issues ranging from generalised anxiety disorder to post-traumatic stress disorder.