The 2018 Australian of the Year is a quantum physicist who just happens to be a woman. So we can't help but ask: How do we get more girls into STEM careers?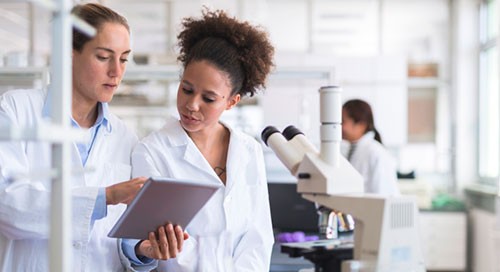 Chemical engineer Emma Clark recalls landing on a gusty Bass Strait oil rig early in her career. Standing just a whisker over 160cm tall, the wind was so strong she was in danger of being blown into the sea and male colleagues had to hold her securely on the helipad.
"Another time I went out on a rig, and there's a radio-control person who checks everyone on and off, and he said: 'Oh, you're a female … I'd better go and change your room'. I had a bit of a laugh because he was just expecting another male to turn up and had to move me to the female quarters," Clark says.
Not only has Clarke carved out a highly successful career in the broad, male-dominated, field known as STEM (science, technology, engineering and mathematics) she has also thrived in the field with the greatest gender gap.
A 2016 report on Australia's STEM workforce by chief scientist Alan Finkel found just 16 per cent of people with STEM qualifications in Australia were women. And the biggest gender imbalance was in engineering, with women comprising just 7 per cent of the cohort. The figures are improving, with more and more women choosing STEM career paths (up by almost 23 per cent in five years). But women still lag in pay, with 32 per cent of male STEM graduates in the top salary bracket (more than $104,000 per year) compared with just 12 per cent of females.
Fix now or pay later
The Women in STEM movement gained national exposure in January this year when Scientia Professor of Quantum Physics Michelle Simmons was named Australian of the Year, but there's still a long way to go. Closing the gender gap matters because 75 per cent of the fastest growing occupations require STEM-related skills and knowledge, according to the Invergowrie Foundation, a charitable trust advancing the education of girls and women in Victoria.
"Not addressing this issue now will have major ramifications going forward," Invergowrie chair Wendy Lewis says in the foundation's 2017 report on girls in STEM. "These include a lack of gender balance to align with real-world experience, the absence of equal opportunity for all people and a decline in the economic empowerment of women."
The report cites research showing gender-balanced STEM workplaces are more productive and develop higher quality research. It blames deeply embedded cultural expectations and traditions – including early gender stereotyping, teaching practices and institutional structures – for impacting girls' engagement with STEM. Part of the solution requires improving teacher competencies and school curriculums, and building partnerships between schools, industries and universities.
Central Queensland University STEM project lead and senior lecturer Dr Linda Pfeiffer says education in schools is vital to improving STEM participation. She says raising awareness of science's application in everyday life and supporting teachers to become champions of STEM will increase student engagement.
"Until you educate the educators who are influencing future generations about what STEM is all about – that it's not just coding and robotics, it's a philosophy about solving real-word problems – then you're not going to get children coming through, girls and boys, wanting careers in STEM," she says.
"I think we need to make science more attractive not scary for people, and relevant in everyday life because, in my opinion, every single career has science in it and almost every single thing you do in everyday life – cooking, make-up, anything – all revolves around science."
Role models matter
Clark, who has worked for resources giant Esso for two decades and manages the commercial supply of gas to most of South-East Australia, was inspired by her high school chemistry teacher. "He was extraordinary, and I definitely think it's because of him that I ended up doing chemical engineering," she says. "I think a good teacher is priceless."
Clark's career has included a posting in London where she was responsible for Esso's Norway and UK gas portfolios, and she says she hasn't experienced any professional obstacles based on her gender. However, there's no escaping the reality she is a woman working in a field that's still ostensibly a man's world.
"The most striking recollection I have of thinking 'I'm well outnumbered' was at university," Clark says. "I remember looking at this [engineering physics] lab and thinking, 'There must be somewhere close to 100 people here and I cannot see another girl'."