Seniorpreneurs are stirring up start-ups

Older entrepreneurs are shrugging off stereotypes and bringing a wealth of wisdom and experience to start-ups and the small business sector.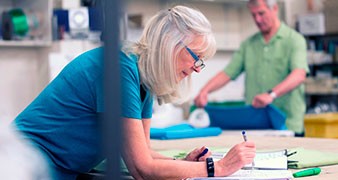 More than a third of new start-ups are led by 50-somethings.
The next generation of entrepreneurial movers and shakers aren't Millennial coding wizards, they're their grandparents, and they've got decades of experience behind them.
Research by Queensland and Swinburne universities of technology shows senior entrepreneurs are leading the charge among new business owners in Australia, with almost 35 per cent of new start-ups being led by the 50-something set.
Here are five things every post-50 entrepreneur should know before starting a new business.
1. Find your niche
Answering three core questions – what are your interests? What are you good at? Can you turn your passion into a profitable business – is a crucial first step to embarking on any new business. Once you're confident your idea matches your skillset and has the potential to make money, you need to research your market. You want to be clear about what others have done in this space, who their target audiences are and how your idea is different.
2. Make a business plan
Clearly articulate exactly what your offering is and make sure it fills a need or gap within your market. Prepare highly detailed 12-month, two-year and three-year business plans that set out your goals, budgets and development framework, as well as your marketing strategy. Crucially, this plan should also secure funding sources. How much will your start-up cost and how will you finance it? Consider business loans, government grants, private investors and more innovative sources such as crowd-funding.
3. Get advice
A business idea is only as good as the person executing it. Be mindful of any shortfalls in your knowledge and seek the expertise of others. Surround yourself with a Brains Trust of loyal advisers, whether they're former colleagues and friends or paid professionals and take every opportunity to expand your contact base and develop your business aptitude. Now is also a great time to leverage your networks and contacts from previous jobs.
4. Upskill to upsell
Business trends and practices evolve rapidly. Keep yourself ahead of the game by updating your skillset with formal education and training. Many providers offer online classes and part-time courses so you can avail yourself of the latest business thinking and innovations while you work on developing your idea. Remember too that the internet is your friend: it's the first stop for 97 per cent of consumers searching for a product or service – so be prepared to set up and manage a website and blog and ensure you have a strong social media presence.
5. Back yourself
You're not a wet-behind-the-ears business cowboy with more confidence than credibility. You have the benefit of a working life enriched by decades of experience, contacts, networks and resilience.
Starting your own business after 50 isn't a cinch but it can be incredibly rewarding. Keep your goals firmly in sight, plan for all scenarios, make contingencies, seek support and, above all, enjoy the journey. You've already done the hard yards, so now you just have to ensure your entrepreneurship delivers the work-life balance you want.