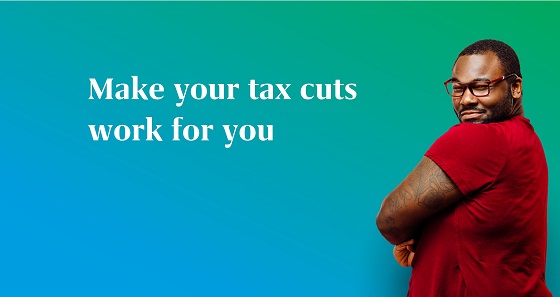 Tax cuts are the golden ticket at Federal Budget time. The Government loves to give them and taxpayers love to get them. But tax is rarely simple.
As part of the Government's three phase tax plan, we were promised a second phase of tax cuts to hit our pay packets from July 2021, but this year's Budget backdated them to July this year.
The reduced tax will start in a few weeks, but the 'pay back' of cuts from the months already gone will come as a windfall in our 2020/21 tax returns.
What does this mean for me?
These Phase 2 cuts focus on middle income earners. Phase 1 of the plan gave the greatest tax cuts to low income earners. Tax cuts for high income earners are expected in Phase 3. 
Here are the tax savings for different before tax incomes, based on their change from last year (2019/20 tax year):  
| | | |
| --- | --- | --- |
| Annual income | 2020-21 | 2021-22 |
| $35,000 | $255 | $0 |
| $50,000 | $1,080 | $0 |
| $80,000 | $1,080 | $0 |
| $100,000 | $1,530 | $750 |
| $120,000 | $2,430 | $2,250 |
Source: Budget 2020 Income Tax Calculator, ABC News, 7 Oct.
In more 2020 Budget generosity, the Low to Middle Income Tax Offset (LMITO) has been increased from $455 to $700 and extended for another year. So if you're eligible, you will receive that as well it in this financial year's tax return.
An added bonus is that the next step of the Government's tax plan, which comes into effect in July 2021, means your super guarantee contributions rise to 10% from 9.5%. 
Boost the economy or your super?
The uncertain economic environment means some people may want to save the extra money in their tax return for a rainy day, but others may choose to use it for things they feel they've needed for a long time.
Because this is a stimulus Budget, the Government's intention is that we spend the extra money to get the COVID affected economy moving again, which is good.
Mercer's Technical Advice Specialist Anthony Williams says it's important to think about what you do with your tax return windfall so it can support you best.
He says that many people will be in great need of the money, but if you can afford to put the extra into your super for the long term, it may strengthen your retirement options. This may be especially true for people who took advantage of the recent COVID-19 super early access provision to take money out of their super. They might want to rebuild their balance after a difficult financial period.
Before tax or after tax?
The Budget concentrated on youth employment incentives and offered little for those closer to retirement. Anthony reminds us, there are always choices to be made about super when the Government changes the tax thresholds.
"Whenever the Government changes the rates of tax, we need to take a step back and ask whether extra contributions to super are worthwhile at my tax rate and if so, which type of contribution works best for my situation."
The super contributions taken out of your before-tax pay are taxed at 15% when they go into your account. For most people this is a lower rate than their marginal tax rate. If you earn below $45,000 or above $180,000, it may be worth looking at after-tax spouse contributions, which could provide a greater tax benefit than pre-tax contributions.
We can help you understand which type of contribution works best for your own personal circumstances.
Call us on 1300 652 059.
Issued by Mercer Outsourcing (Australia) Pty Ltd (MOAPL) ABN 83 068 908 912, Australian Financial Services Licence #411980. Mercer Superannuation (Australia) Limited (MSAL) ABN 79 004 717 533, Australian Financial Services Licence 235906, is the trustee of Mercer Super Trust ABN 19 905 422 981. Mercer Financial Advice (Australia) Pty Ltd (MFAAPL) ABN 76 153 168 293, Australian Financial Services Licence #411766.  Any advice contained in this notice is of a general nature only and does not take into account your personal needs and circumstances. Before acting on any information in this document, consider the PDS, the booklets and any other member materials sent to you. We recommend you seek professional advice from a licensed, or appropriately authorised, financial adviser if you are unsure of action to take. The value of an investment in the Mercer Super Trust may rise and fall from time to time. Neither MSAL, nor Mercer (Australia) Pty Ltd (Mercer) guarantees the investment performance, earnings or return of capital invested in the Mercer Super Trust. Past performance should not be relied upon as an indicator of future performance. 'MERCER' is an Australian registered trademark of Mercer ABN 32 005 315 917.  Copyright 2020 Mercer LLC. All rights reserved.