Hot property starts to cool

Buyers are increasingly well placed as property prices decline across most Australian capitals, with Hobart, Brisbane and Canberra holding firm.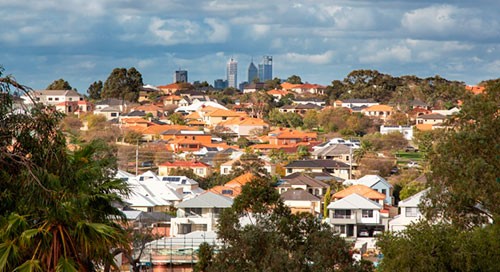 Falling house prices across most capital cities in Australia are promising a stellar end-of-year auction season for homebuyers, but a sour outcome for sellers. Property values recorded a national decrease of 2.7% in the year to September, CoreLogic figures show. Values dropped by 0.5% on average across Australia in the month to September signaling what experts say is more of a market trough than a crash.
The declining prices have seen the Sydney market, for example, return to 2016 levels, according to the latest Domain House Price Report.
With the exception of Hobart, Brisbane and Canberra, where values rose by no more than 0.4%, property values dipped across all capitals in September with Melbourne faring the worst. Values in the southern city took a 0.9% dive, followed by Sydney and Perth where values declined by 0.6%.
Cameron Kusher, research analyst with CoreLogic, says a number of factors had lead to lower values.
"Strong growth in values prior to falls, tighter lending policies which have reduced borrowing capacity, tougher rules for investors and interest-only borrowers, a subsequent reduction in demand from investors (a key driver of demand in Sydney and Melbourne in recent years), heightened new housing construction over recent years, little in the way of household income growth and now a heightened supply of stock available for sale across the market."
Kusher believes that currently, NSW, Victoria, WA and the NT are the most affected but value growth is also generally slowing elsewhere.
"We have also said all along that values in Sydney and Melbourne could fall somewhere in the vicinity of 10% to 15%," he says.
Better affordability
But with property prices shifting down a gear, Australia's arm wrestle with housing affordability has eased. Improving affordability has taken pressure off the hip pockets of buyers, particularly those buying their first home. The HIA Affordability Index for Australia was recorded at 76.3 in the September quarter, up 1.5% from the previous quarter and 2.2% higher than at the same time last year.
Rising affordability in Sydney and Melbourne – Australia's most expensive markets – is sorely needed, says Geordan Murray, HIA acting principal economist.
"Affordability in Sydney posted the biggest improvement," he explains. "While it remains the least affordable market in the country – by quite a margin – the index is 9.0% higher than a year earlier, which is a significant positive step. The analysis also shows improved affordability in Melbourne."
Buyers now have more control
In more good news for those in the market for a new abode, housing stock levels are 10.2% higher than last spring and at their highest level since 2012. Despite there being more properties for buyers to choose from, not all listings are fresh, says Tim Lawless, CoreLogic Asia Pacific research director.
"The rise in total listing numbers isn't due to a panicked surge in new listings," Lawless says. "This is more about less demand, which is causing a rise in re-listings along with longer selling times and fewer successful sales at auction."
The typical property in capital cities is now taking 53 days to sell compared with 42 days a year ago. CoreLogic data also shows discounting rates have risen to an average of 6.5%, up from 6% a year ago. This all points to strong outcomes for buyers, but weak conditions for vendors, Lawless says.
"More stock means more choice for buyers and harder selling conditions for vendors – essentially a buyers' market," he says. "Buyers have little sense of urgency under these conditions. They can negotiate hard, take their time to make a purchase decision, and if they feel a property price doesn't reflect fair value, they can easily move onto the next property option.
"With so much competing stock on the market, vendors will need to be reasonable with their pricing expectations and ensure their marketing campaign is as effective as possible in order to stand out from other stock for sale."
Kusher says with falling showing no sign of abating, there could be falls for another couple of years.
"It could be a very slow recovery thereafter," he says, "with values remaining below their previous highs for some time."