After six months of relative calm, share markets hit a rough patch in early October 2018. Global shares1 fell 6.5% in less than two weeks. Australian shares2 fared slightly better, only falling 5.2% in the same period.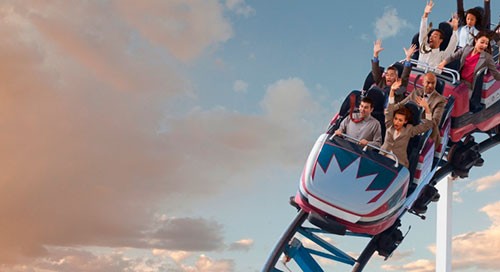 The high-flying technology sector (which has seen massive gains since the financial crisis) was hit particularly badly. The tech-heavy NASDAQ index dropped nearly 9% in the first 12 days of October.
Four days later, Wall Street surged more than 2%, its biggest one-day gain since March. In the weeks following, equity prices have recovered some of these losses3 (Global Equities +0.8%; Australian +1.7%; NASDAQ +1.6%)… Ah, the volatility.
As always, it's almost impossible to pinpoint one reason for the sell-off; instead a range of factors combined to make investors nervous – among them are ongoing trade tensions between the US and China, rising oil prices and more contractionary monetary policy in the US.
One thing seems apparent – the historically low levels of volatility witnessed in equity markets over 2016/17 could soon be a thing of the past and investors could experience more volatility in stock prices over the coming years.
The financial system is based on confidence, not numbers.
There hasn't been a lot of volatility in markets over recent years, largely as a result of the actions of policymakers who rushed to restore confidence in the financial system following the 2008 Global Financial Crisis.
Politicians sought to rebuild confidence by stating that they would do "whatever it took" to ensure the survival of the system in roughly its current form. And it worked.
A rapid move to record low interest rates, the injection of huge amounts of cash into the banking system and a massive program of asset purchases helped avoid a deep global recession; Australia managed to avoid recession altogether.
These policies, known as quantitative easing, were untried and untested. No-one really knew what the results would be. In fact, their full long-term effect remains unclear.
What we can say is that central bank intervention – and the increased confidence they would do whatever it took – helped fuel an exceptional boom in asset prices and kick-started a near 10-year bull market.
It also led to a decade-long build-up of public and private sector debt. Current debt levels are similar to those seen in the pre-crash period of 2007/2008 which brings the glaring prospect of another global financial crisis.
The end of an era
The era of extraordinary monetary policies is coming to an end. Major central banks are planning to gradually remove their support from the financial system, scaling back or ceasing asset purchases.
Interest rates in the US will likely continue to rise for the foreseeable future while other central banks – namely the Bank of England and the European Central Bank – have committed to a gentle tightening of monetary policy.
Brexit negotiations in the UK and potential political issues in Greece, Italy and Spain mean European regulators are treading a much more delicate path than those in the US, especially considering European economies are not performing as strongly as the US.
There are also some significant political risks, such as growing trade frictions, increasing populism in mainstream politics and simmering tensions in a number of geopolitical hotspots, not to mention falling house prices here at home.
Don't panic
There are sensible actions investors can take based on sound, long-term principles: keeping a cool head and embracing diversification are chief among them.
Do not make 'knee jerk' decisions that might damage your longer-term objectives.
Most superannuation investors are exposed to equity markets to some degree so will be affected by these market movements, but super is a long-term investment and that means there's usually time to make up any losses from volatility events.
If you're heading towards retirement, now is a good time to get some advice on your investments. If you have any immediate concerns, don't hesitate to contact a Mercer Financial Adviser on 1300 850 580, or if you already have a Mercer Financial Adviser, call them on 1800 195 513.
---
1 Measured using the MSCI World Index
2 Measured using the MSCI Australia Index
3 All returns as at Friday 19th October 2018