Whether you're a low-budget backpacker or a serious frequent flyer, these apps make light work of travelling.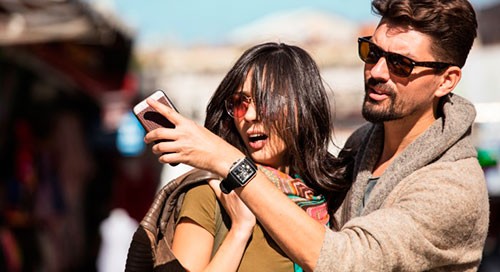 No modern traveller would be without their Uber, Airbnb and TripAdvisor apps, but here are a few lesser-known gems that you'll want to keep handy the next time you're globe-trotting.

All are iOS and Android and free, unless noted.
1. PackPoint
Who doesn't struggle packing for an overseas trip? Do you really need four Ralph Lauren polos and three pairs of sneakers? Welcome to PackPoint, an app that builds a customised packing list based on your destination, travel dates and likely activities. Consign panicked over-packing to history and never leave home without your essentials.
2. Google Translate
It translates 103 languages (90 of which you'll probably never need), but even more handy is the "snap" feature (currently available for only 38 languages): point your camera at a menu in Lisbon or a box of tablets you think might be Panadol in Hanoi and, voilà, instant translation.
3. SeatGuru
What's not to love about an app that gives encyclopaedic-level advice on the best seat choices on some 130 airlines, from Ireland's Aer Lingus to Canada's WestJet. Follow a simple colour-coded floorplan to choose the prime seat on a flight judged by legroom, proximity to the galley, or the bulkhead. There are plenty of reviews from frequent flyers, too.
4. CityMapper
This award-winning app helps users negotiate public transport in some 40 cities worldwide, finding the best route, giving step-by-step directions (including an alarm when it's your stop), and providing real-time departures in US cities such as New York and Chicago.
5. Hopper
A very handy friend indeed, this app analyses millions of flights to predict when prices will be cheapest and the best times to buy a ticket for a particular destination. It's good for long-term planning too as you can track trips up to a year ahead. The developers introduced a similar service for booking hotels in late 2017.
6. GTFO
Need to leave somewhere right now? Get the Flight Out is a subsidiary of Hopper (above), and uses its data to find flights when you need to leave a destination in a hurry: either the same day or the following day. Handy for spontaneous weekend getaways, not just for those escaping marauding bandits.
7. SitOrSquat
Anyone who's ever tried to find a toilet at short notice in a foreign city will not leave home without this "loo-locating" app (about 100,000 public restrooms are included). It's hard not to love the rating nomenclature: toilets get a "sit" if they're clean, a "squat" if they're not. Users can add information, too.
8. TripIt
This clever little app combines all your travel plans (everything from confirmation emails from a travel agent to rental car bookings) into one easy-to-access digital itinerary. You can edit your plans, receive real-time alerts and sync details with your calendar.

9. Localeur
If sipping a dirty chai with dreadlocked hipsters in downtown Portland is your idea of heaven, this app might be indispensable. It uses a "community of tastemakers" to help you #experience local (that is, find the best bars, boutique hotels and chic shops) in cities as diverse as Dallas and Cape Town.
10. LoungeBuddy
Envy all those super frequent flyers in airport lounges? Enter your itinerary and LoungeBuddy will let you know whether you can pay a small fee, from $35, for instant access to lounge around at your destination. The app includes some of the world's best luxe lounges from Dubai to Denpasar. (iOS only).