Happy fathers take time to be dads

Most Australian dads will have celebrated Fathers' Day recently, but few would have taken extended leave from work at the time their children were born.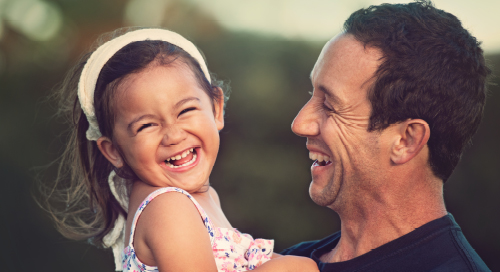 New research by the Australian National University, released last month, shows just 2% of new dads take paid parental leave, due largely to inflexible policy and stigma about men acting as primary care givers.
The university's Senior Research Fellow Dr Liana Leach says Australia's existing parental leave scheme – which provides 18 weeks' pay at minimum wage to the primary carer and 2 weeks for secondary carers, usually dads – reflects a "conservative ideology of a stay-at-home-mum and bread-winner-dad".
"There is a distinct gender imbalance. It is expected that mothers will be the primary benefactors of the scheme [but this] no longer resonates with many Australians," Leach says. "Our current system doesn't encourage fathers to take leave, with just two percent of fathers taking leave as the primary carer.
"Saying fathers should take parental leave is still a controversial idea and it really shouldn't be."
Emily Eaton, a senior global diversity and inclusion consultant with Mercer, says taking leave can be challenging for men, everywhere in the world.
Today, 184 countries offer some form of paid or unpaid parental leave. But according to a June 2018 report by UNICEF almost two-thirds of the world's children under age 1 — nearly 90 million — live in countries where fathers are not entitled take paid paternity leave.
"There is a real reluctance to encourage men to take paternity or parental leave, which is puzzling when you consider the way everyone benefits when they do," Eaton says. "Men, their partners, their children, and their companies are all more likely to thrive if men spend time with their children in the time after their arrival."
It's better for men.
Studies show that father-and-baby bonding during paternity leave actually improves a dad's ability to care for children in the long term, enabling him to be a more engaged and involved parent.
Paternity leave also has a positive impact on men's relationships. In Norway, following the introduction of a four-week paternity leave, a study found an 11% lower level of conflict over household division of labor.  A study in Sweden found that couples were 30% less likely to separate if the father took more than two weeks off to care for a first child. Another study even showed that higher level of participation in paternity leave was associated with lower mortality in fathers with depression. 
It's better for women.
Paternal leave is hugely beneficial for women, both at home and at work. When men take parental leave, women see a decline in overall levels of post-partum depression and sick leave, and increases in well-being,
Research shows that hourly wages of mothers are about 5% lower than childless women;  mothers are 79% less likely to be interviewed and hired, and are offered lower wages when they are hired. Mothers are also half as likely to be promoted. In evening the burden of caregiving between fathers and mothers, we would expect these inequities to reduce.
It's better for children.
Children whose fathers take parental leave also benefit from having Dad at home in their first weeks. Kids whose fathers take paternity leave show better developmental outcomes, improved performance in school, and improved cognitive scores and mental health outcomes as they grow older.
It's better for companies.
Companies may stand to gain the most from encouraging men to take parental leave. Between 89% and 99% of employers say leave has no negative effect on productivity, profitability, turnover or morale, according to one study. Fathers and parents of both sexes who received parental leave are more likely to stay with their companies.  In Quebec, a study has shown that paternity leave is associated with a mother's ability to return to the same employer—a significant advantage to companies hoping to keep good talent—provided the practice becomes widespread.

Perhaps most importantly, paternity leave is proving to be the key to addressing the pay equity gap. Because working mothers are still doing the bulk of the parenting work at home, they're less likely to be promoted. By allowing men to help shoulder parental responsibility from the start we can help equalise the effects of maternity leave and motherhood on the development, compensation and overall equality of women in in the workplace.