Life is not always smooth sailing

Raymond Zielonka believes that, in a sense, we all sail through our lives; sometimes the water is smooth, sometimes it's rough and "sometimes we're forced to take a little port-side break".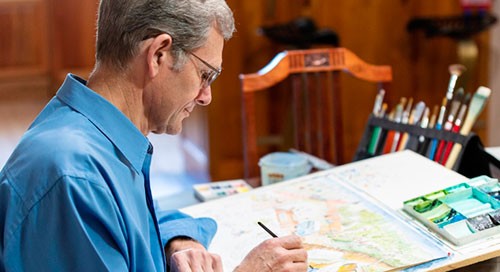 About 10 years ago, Raymond hit a rough patch, one that would eventually expand and become a full-blown storm at sea.
"I was having fainting spells and they did various tests and found a tiny, pea-sized meningioma," Raymond says. "I had radiation treatment and yearly follow ups. It went from 8mm to a 5mm and continued shrinking down over the years to the point where we really weren't worried about it."
A meningioma, by far the most common brain tumour, is usually benign, slow growing and doesn't typically spread to other parts of the body. They grow in the layers of membrane that wrap the brain and account for about 30% of all brain and spinal tumours, according to John Hopkins School of Medicine.
"Usually they're not an issue, but apparently I had a fast-grower," Raymond says. "In February 2016 they found it had grown to 30mm, the size of a golf ball, so they got it out and nuked the area with radiation afterward.
"Unfortunately I had a bleed on my brain and it was too dangerous to go back in and repair; the pressure built up and crushed a lot of things that shouldn't be crushed."
Raymond lost sight in his right eye, he couldn't make sense of letters or words or identify everyday objects – like a pen or a table or a plate. He couldn't walk unassisted. His long term memory remained but he couldn't remember anyone he'd met within the past two years.
The long road back
Over the course of a year, including six weeks of intensive rehab, Raymond "relearnt" to see, walk, eat, to recognize and use everyday objects. It's been a long road back for the 62-year-old mechanical engineer and, he says, there's still a long way to go.
"You've got to go all the way back to basics, you process things slowly and everything is overwhelming and exhausting," Raymond says. "When I first saw a painting in rehab, I looked at it for maybe 5 or 10 seconds before I had to go back to bed for an hour's sleep because my brain was trying to pick up everything and work it all out.
"I used to be able to conduct training meetings with groups of 10 or 12 people; get their input, record their thoughts and anticipate what they would ask and say. I can't do that anymore.
"I can get up to two people talking and a crowd is OK because there's a lot of noise and you can't pick out individual bits. But small crowds wear me out because my filter breaks down and just picks everything up; it's a deluge of information.
"I've gone from a one percenter to about 10-15%. It's so much better but I'm still slow. "
Getting by, with a little help
Raymond says the most amazing part of his journey is the sheer amount of help and support from the community and organisations he's dealt with. Neighbours and friends rallied around, arranging a schedule for getting Raymond to radiation appointments and holding a working bee to remove any obstructions or dangers from his family home and garden.
"Not everything is smoothed out for you but an amazing number of people support, sustain and help you," he says. "Just the amount of constant attention and dedication and kindness through a year of rehab was very good and people from the community just pitched in."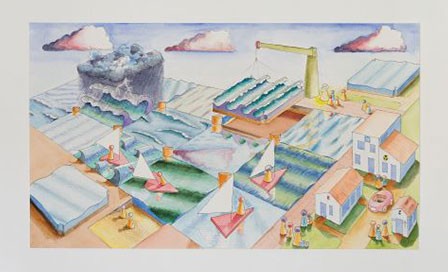 The people and groups that helped him on his way are the subject of Raymond's painting, Sailing through life, a work commissioned for a brain-injury conference held in Adelaide earlier this year.
The painting – one of 20 works displayed during the conference's "This is Me" exhibition – features a series of numbered buildings, each representing a group of individuals or professions who helped him endure; a religious icon, a radioactive symbol and a crane lifting a square of ocean.
One small figure with an armload of books is Raymond's Grandson.
"My daughter tried to explain what had happened and after processing it in his way he came to the conclusion that I'd lost my mind and that he had to help me find it again," Raymond says. "I was learning to read again and they gave me primers and early reader books and my grandson – who was in grade 1 – would come in and check my work; making sure I was making progress and finding my mind again.
"That was funny, and very sweet."
Empathy can be hard to come by
But Raymond says, not everyone gets it.
"People with brain injuries often look and sound fine, so many people assume we are," Raymond says. "While that's nice in one way – you're not ostracized, or made to feel different – it's difficult too. I'm not able to think quickly, sometimes I'm blocked out from my thoughts, processing is really hard.
"If you have to deal with people who have suffered a brain injury you need to make sure it's simple or that you're very patient."
Claiming on his Income Protection insurance was not easy and not everyone on the other end of the phone was as patient as they might have been. Mercer insurance case manager Suzanne Fraser proved an exception.
"That was quite stressful and it wasn't until six months after my operation that we got confirmation from the insurance company," Raymond says. "We had no assured income so I had to get early release money from my super and my wife had to go back to work earlier than she would have liked and was exhausted from work and looking after me.
"Suzanne is the one who picked up the case and sorted it out and made sure I got everything I was supposed to. She would come under the C building in the picture, one of the support people that helped me get thru the process.
"She's been great, but it hasn't been easy."
Raymond has returned to work at SA Power, analyzing inspection and continuous improvement processes, putting in three, six-hour days each week.
"I've always been work driven and done everything expected of me, but it's very wearing," he says. "I haven't got a work-life balance, I'm just working and sleeping and unable to do anything else. So I have to consider the fact that I'm not really coping."
Whether or not paid employment is part of Raymond's future he has "reestablished my connection with the world", particularly through art and exercise.
"I had been doing art classes for eight years and I've got back to that and I exercise regularly; both of those are good for me, they help the brain reinvigorate, reduces stress and provide a way of reconnecting with the community," he says. "I'm so much better than I was but in terms of maturity I'm probably like a late teenager.
"I thought I was a bit further than that but when I asked the family about it they said, 'no you're still hopeless'. But with help, I hope to get there in the end."