Cities that cater for young and old

A push to make our growing cities work better for both 8-year-olds and 80-year-olds could have broad benefits for the entire population.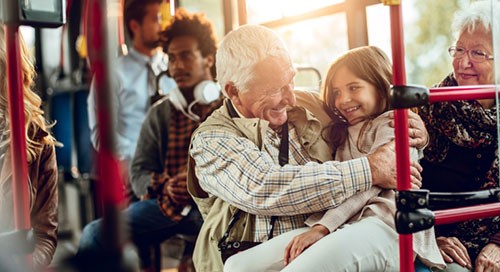 Sydney and Melbourne are regularly placed in the top ranks of the world's most liveable cities. In fact, Melbourne has headed the list for seven years in a row. But does past performance guarantee that they'll still make the cut in 20 years?
A recent report by Infrastructure Australia notes that both cities will have populations of more than 7 million by 2046 (Sydney's is currently about 4 million, while Melbourne's is 3.8 million). These increases come with a warning that we need to act now to ensure quality of life into the future. The report's findings are fuelling debate in the media and politics about immigration, public transport and access to hospitals.
While Australia struggles to accept the realities of city growth, policymakers in the northern hemisphere are moving ahead with plans to optimise their urban environments. One approach gaining traction is the so-called '8 80 Concept', devised by Canadian non-profit group 8 80 Cities, which encourages urban planners to make decisions based on the needs of their city's 8-year-olds and 80-year-olds.
The 8 80 concept
Executive director of 8 80 Cities, Amanda O'Rourke, says children and the elderly are often less mobile and independent than adults, so cities need to be built to a higher standard to cater for them.
"The 8 and 80 are a kind of 'indicator species' that signals whether the city ecosystem is functioning well for everyone," O'Rourke says. "We believe if you focus on the needs of the 8 and 80 [year-olds] then you will build a successful city for residents of all ages, abilities and backgrounds."
Three elements underpin a successful 8 80 city: the right to mobility, the right to public space and the right to participate. This means the young and the elderly should be able to travel, spend time out in the open and have access to civic and cultural events. 
These three aims may seem like simple common sense, but O'Rourke says our current car-focused paradigm puts them out of reach for many growing first-world cities. "When we plan our communities in a way that you need a car to access basic daily activities such as attending school, going to the park or getting groceries, you isolate and take away independence from children, older adults and people with low incomes," she says.
Leading by example
Remodelling Australia's biggest urban centres to reduce reliance on cars may seem like a far-fetched idea O'Rourke says similar shifts have already taken place in some countries.
"Every year we bring civic leaders from across the United States to Copenhagen to learn about the transformation of that city from a place that was car-oriented to a place that prioritises people," she says. "Today, Copenhagen demonstrates global best practice in bicycle infrastructure design and pedestrian-priority streets, as well as great parks and public spaces for young and old."
Other Nordic cities, such as Stockholm and Malmö in Sweden and Helsinki in Finland, have made similar changes, even as their populations have grown.
O'Rourke's organisation is working with Ryerson University in Toronto, Canada, to develop an "8 80 diagnostic" that will help rank cities around the world using the three 8 80 elements.
She says Melbourne seems to be in closer alignment with 8 80 goals than Sydney, but even Melbourne's highly praised cycle-ways still need work.
"When I visited Melbourne, I found the infrastructure for bicycling was inconsistent and the demographics were quite skewed," she says. "People riding bicycles tended to be male, aged 30-50. In contrast, cities like Copenhagen and Malmö see more women riding than men, and certainly more children and older adults."
In those cities, safety on cycle routes is key to participation.