The Smart Money starts out Money Smart

Many Australians lack confidence when it comes to dealing with money.

A 2017 study by Mortgage Choice found 60% of Australians rated their overall financial knowledge as average, poor or very poor. More than 20% of respondents to the national survey said they weren't "money smart".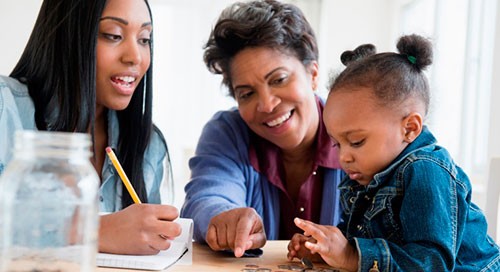 Children absorb money habits and knowledge from their parents.
Laura Higgins, a senior executive at the Australian Securities and Investments Commission's MoneySmart website, says nearly every Australian engages with financial products or services, making money smarts more important than ever.
"Australians must have the knowledge and skills around money and finance to make informed decisions and plan for the future."

-Laura Higgins
Focus after 50
People gain greater financial knowledge as they get older, with appetites for different investment strategies changing over time.
Finance and economics commentator Michael Pascoe says most people's money smarts come from a range of sources, but people are "inclined to follow others" throughout most of their life.
"Most people only seem to take a real interest in their finances when they turn 50 and suddenly see retirement on the horizon and there's not nearly as much in their superannuation fund as they would like," Pascoe says. "Until then, there's a tendency to bumble along, meeting life's expenses, dealing with the issues of having a job, obtaining a home, raising children, travel and fun."
The younger you start the better for you
Mercer financial adviser Meg Rennie says it's true people tend to put off their finances earlier in life, but they do so at their peril.
"Times have changed and it's now much harder to cram a life's worth of saving into a few short years before retirement," Rennie says. "Your financial priorities will – and should – change as you get older and your situation changes, but having financial goals is important at every age.
"Getting started in your 30s makes it so much easier to hit your financial ambitions in your 40s – whether that's travel, starting a family or buying a home.
"And knowing your way around a budget and having a handle on your finances when you're 30 and 40 will give you the confidence to achieve your later life goals, whatever they are."
Where do we get our money smarts?
Higgins says people start forming their ideas about money, including spending and saving, from a very young age; absorbing habits and knowledge from their parents and school.
The Mortgage Choice survey found nearly 12% of adults continue to rely on family to guide them on finances.
Newspapers and daily business reports on television news provide another common source of base-line money smarts while online channels – websites, public forums and social media – are increasingly popular for those in search of information and insights on all things money.
ASIC's MoneySmart website for example, drew more than 7 million unique visitors in the past financial year.
Smarts on the shelf
For those who consider themselves financially literate but are still seeking guidance on managing their money there are dozens of magazines dedicated to money and finances, not to mention the book store.
Many people turn to well-known reads such as Robert Kiyosaki's Rich Dad, Poor Dad, Scott Pape's The Barefoot Investor and even Adam Smith's The Wealth of Nations for their money smarts.
Scott Phillips, director of research at share advisory firm the Motley Fool, says The Millionaire Next Door by Thomas Stanley is another excellent place to start, along with renowned American investor Warren Buffett's own shareholder letters, The Essays of Warren Buffett.
More advanced options to expand financial knowledge include meetings with like-minded individuals and professional financial advisers. Higgins says it's crucial to gather information from many different avenues, with unbiased sources balancing out information received from financial institutions.