Why esports are exploding
Kids' stuff. That's the stereotype facing leagues of video gamers around the world, but you may be surprised to learn gaming appeals to a broader audience.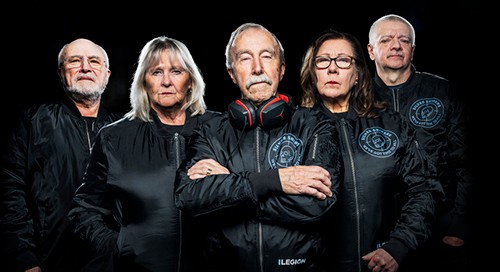 Take professional Counter-Strike gamer Inger "Trigger Finger" Grotteblad. At age 67 she's hardly your average esports competitor. After an earlier "addiction to Tetris" (most popular in the 1980s), she found Counter-Strike through her grandchildren.
Esports has helped her mind and her coordination, along with developing her rapid decision-making skills as part of working in a team.
Her team, the Silver Snipers, is aged 65 to 76, and they participate in competitions throughout Europe. Sponsored by computer- manufacturing giant Lenovo, team members were recruited to show that esports are for anyone.
Esports pros may largely be teens and 20-somethings, but this doesn't mean more casual players can't make their game time a little more competitive. Along with all the research on the value of games for keeping our minds sharp, there is added value for players when competition and teamwork are involved as well.
"We are gaming for a longer life," Grotteblad says. "It's not bad for young people, it's very good. It keeps them away from drugs and alcohol,
it helps them make friends all over the world and they learn how to cooperate and make fast decisions as part of a team."
A career in the making
Most players are a little younger – or a lot younger – than Grotteblad and the Silver Snipers. And most of them are told at one point or another (by parents and grandparents) that they're "wasting their time" playing video games.
But it's getting harder to say that.
As competitive multiplayer video games (esports) gain more attention top players are attracting sponsorships and lucrative salaries — and the cream of the crop are competing for prize money comparable to the biggest prize pools in sport.
In June 2019, a 16-year-old American, Kyle "Bhuga" Giersdorf won the inaugural Fortnite World Cup, taking home more than $4 million in the process. And in August, 19-year-old Australian Anathan "ana" Pham won his second world championship as part of a Dota 2 esports team, taking his earnings so far to more than $8.8 million.
Compared with the $3 million prize money at the US Masters golf tournament and the $4.1 million up for grabs at the Australian Open, the esports scene is becoming a serious career option if you have what it takes.
What makes a game an esport?
The difference between a typical videogame and an esport relates to whether a game supports structured, competitive play against other real players and tracks rankings of the best players in the world. The focus can be purely on player-versus-player, or on the formation of teams.
Esports bring to video games the essence of traditional sport – success is built on competition, teamwork, and hard work, not just random chance.
For those with a knack for esports who are pursuing excellence in an organised team, many of the required skills align with conventional sports: hand-eye coordination, fast decision making and strategic thinking, as well as confidence, training, teamwork and discipline.
But for many players, the number- one reason for enjoying esports is the social factor. In the IGEA Digital Australia 2020 study, 25% of adults said they participate in esports, with 51% saying they like the social aspects of competitive games and 49% enjoying being a member of their game's player community. A further 35% said they play because they enjoy the challenge.
This also puts to bed the stereotype that gamers have limited social skills. With games so heavily dependent on competitive and team-based play, communication skills are crucial.
And while online gaming may have a negative reputation, this does not seem so prevalent in many parts of the esports domain.
"I am so appreciative of the young kids I play against, I don't play as well as they do, but they let me join their teams and they give advice and encouragement."
Esports are for everyone
The big focus for fans, and the big dollars, are found in major international tournaments and a few top-tier leagues played by professional teams here in Australia. But throughout the country there are grassroots efforts to offer opportunities for more people to participate in esports even if they are not chasing a pro-gaming dream.
One group, META High School Esports, which is owned by the Adelaide Crows Football Club, runs tournaments that give high school students the chance to represent their school. In 2019, hundreds of schools throughout Australia and New Zealand participated in three separate events, with finalists flying to the Melbourne Esports Open to compete live on stage for the title.
"We believe students learn valuable skills through esports, such as teamwork, communication, discipline and dealing with adversity," META commissioner Woody Wu says. "The league is only the first step in what we are hoping to build."
For the wider public, there are many competitions both big and small run online and in person.
These give people the chance either to test their skills online or to meet up in person to experience a different kind of social connection.
There are also stories of retiree esports leagues, with the era of the Nintendo Wii (released in 2006) a particular standout, with its Wii Sports offering low-impact opportunities for older fans of tennis or ten-pin bowling to get competitive.
Grotteblad says it would be wonderful to see more retirees taking up advanced esports, and for computer facilities for gaming to be incorporated into retirement homes so people just like her can form teams and compete online.
"We have been asked for advice to set up rooms for older people, and of course we like to do that,"
Grotteblad says. "It's difficult for us to go to Australia but maybe even your young people can help. Sit down with grandparents and grandchildren and teach them how to play. Maybe you can form a great new relationship.
"My advice is just don't be afraid. If you're afraid of something, then nothing happens. Remember that it's just play. It's fun. You will find nice things about it when you do that."