Australia & NZ: a top team in trade

The rivalry between Australia and New Zealand is like that of siblings. In the sporting arena, from rugby to cricket and netball, we're constantly trying to best the other. We can also tell each other apart by accent when the rest of the world struggles.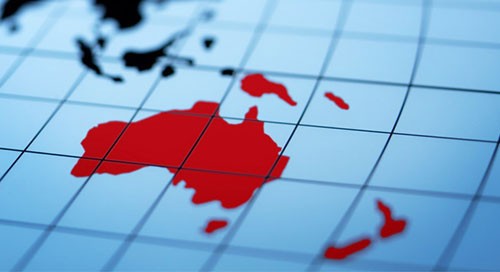 But just like family, the deeper economic and cultural ties between the two nations have deepened over the years.
With much in common, from shared recent history, wartime alliance and relative isolation from the rest of the world, it's natural that Australia's trans-Tasman links are among its most important.
Australia is New Zealand's most important economic and political partner and its largest investor. New Zealand is Australia's sixth-largest market, taking about 5% of our exports, including computer parts, medical instruments, edible products and telecom equipment. In exchange, Australia's biggest imports from New Zealand are light crude oil, edible products, timber and manufactured items.
In addition, each country is the other's major market for tourism and immigration. More than 647,000 Kiwis live in Australia while there are about 65,000 Aussies in New Zealand, thanks to arrangements allowing citizens of both nations to visit, live and work in either country without restrictions.
Side by side
Before Federation, New Zealand was one of the seven British colonies of Australasia. It chose not to join the Commonwealth of Australia in 1901, but relations have remained tight ever since. The two countries competed as one team at the 1908 Summer Olympics in London and again at the 1912 Games in Sweden. Australia and New Zealand fought together as the ANZACs (Australia and New Zealand Army Corps) in the trenches of World War One.
Over the years, there's been much talk about New Zealand becoming Australia's seventh state. But perhaps former NZ Prime Minister Sir Geoffrey Palmer got it right when he observed in 1989 that New Zealand had "gained most of the advantages of being a state of Australia without becoming one".
At a government-to-government level, the two countries share one of the world's closest affiliations, with the relationship between Australian Prime Minister Malcolm Turnbull and recently retired New Zealand Prime Minister John Key described as a "bromance".
Economic engagement
This alliance stems from the signing of the Closer Economic Relations (CER) deal in 1983.
Tim Harcourt, J W Nevile Fellow in Economics at the University of NSW's Business School, says back then both countries were "underperforming" economically with double-digit inflation. Harcourt says bilateral trade had slumped since Federation.
"The CER unleashed a new export culture on Kiwis and Aussies who had been used to protection as if it was a national pastime," Harcourt says. "It gave Kiwis and Australians a foothold in the outside world and allowed local businesses to venture beyond their own borders. It's been an essential part of the transformation of both economies."
He says the deal allowed trans-Tasman trade to recover and boost investment almost 60-fold. It gave Australian small and medium-size enterprises a kick-start in crossing the ditch. And for New Zealand businesses, it opened up a single, regional domestic market five times the size of their own.
Philip Houghton-Brown, Chief Investment Officer NZ at Mercer, agrees the deal was one of the most successful bilateral trade agreements ever.
Broad range of benefits
Houghton-Brown says much is being done to continue developing the deal across a wide range of areas such as consumer law, financial reporting, financial services and intellectual property.
He says Australian superannuation funds are among the larger owners of listed New Zealand companies, providing additional liquidity in the NZ sharemarket, while Kiwisaver funds also invest in Australian companies. Along with harmonisation in the securities and investment markets, there's been a recent agreement on the portability of super.
"That allows New Zealanders returning home to transfer their superannuation into KiwiSaver," Houghton-Brown, says. "Also many companies increasingly have a trans-Tasman approach, for example, in dairy, construction and retail, along with the banking and insurance sectors.
"In many cases, our trading partners already see us as one market."
Opening to other countries
Following the CER's success, Australia and New Zealand have been collaborating on trade ties with other countries. For example, they signed the Association of Southeast Asian Nations (ASEAN)-Australia-New Zealand Free Trade Area in 2010.
"That was the first trade agreement we signed together with a third party and I believe we will see more up for discussion," the managing director of the Trans-Tasman Business Circle, Johnny Weiss, says.
Indeed, Australian Prime Minister Malcolm Turnbull has indicated that the two nations may work together to negotiate trade arrangements with a post-Brexit Britain, although it appears a joint, formal, free-trade agreement has been ruled out for now.
While the future of the Trans Pacific Partnership remains uncertain, Australia and New Zealand are co-operating on the Pacific Agreement on Closer Economic Relations (PACER), designed to help Pacific Islands Forum countries benefit from regional integration. Then there's the Regional Comprehensive Economic Partnership (RCEP), a proposal for a regional free-trade area that would cover about half the world's population.
From tourism to infrastructure
Weiss says the "two countries, one visa" arrangements for the 2015 Cricket World Cup were a sign of things to come. There's also talk of making bilateral tourism more like a domestic experience and plenty happening on the infrastructure side, he says.
"For example, with many Australian companies working in New Zealand, particularly in Christchurch following the earthquakes, the construction industry and government have worked very closely to ensure that building standards are harmonised," Weiss says.
"They also realised that if they got together to market all the infrastructure projects across Australia and New Zealand globally, it would be a much better value proposition than trying to do it separately, so they've launched the Australia & New Zealand Infrastructure Pipeline (ANZIP)."
Houghton-Brown believes relationships will only get stronger. "People who've lived, worked and have family in both countries will continue to ensure that the relationship continues to grow," he says.
But the strengthening bonds don't mean Houghton-Brown or Weiss can foresee a union anytime soon.
"Why should we federate with Australia when you can't even harmonise across six states?" Weiss laughs.
Find out about Trans-Tasman Portability of Australian Super or KiwiSaver