China's trash: Australia's treasure

A new plan argues that investing in the domestic recycling sector could have substantial benefits for both the economy and the environment.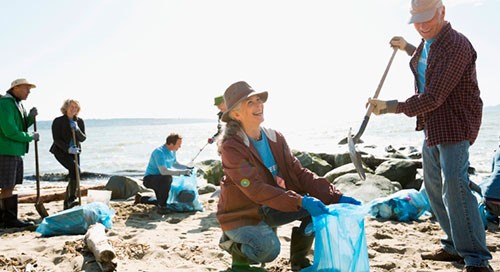 In April 2018, on the eve of a meeting of Australia's Environment Ministers, a bold proposal was released that called on political leaders to invest $150 million in Australia's recycling sector.
Australian Council of Recycling (ACOR) chief executive Pete Shmigel says the one-off investment in "the three 'i's' of recycling – infrastructure, improvement and innovation – could create hundreds of jobs and dramatically reduce greenhouse emissions.
"The report by the highly regarded MRA Consulting shows that domestically remanufacturing 50% of the material, formerly sent to China, would create 500 local jobs and reduce greenhouse gases by the same as taking 50,000 cars off the road," Shmigel says. "To check the China challenge, we are ready to reboot recycling as a self-sufficient sector that enables employment and prevents pollution."
The China challenge
ACOR's ambition comes in the wake of China's decision to stop buying Australian recyclables for processing and reuse. Up until January this year, nearly half the waste paper, cardboard and plastic Australians put in their recycling bins headed to China, the largest importer of recyclable materials.
From 1 January 2018, China effectively stopped importing plastic for recycling by setting the acceptable contamination level. Without China, much of Australia's kerbside recycling has nowhere to go after initial sorting.
Mike Ritchie, managing director of MRA Consulting, which modelled the plan for ACOR, says the decision presents challenges, but also opportunities for Australia.
"Onshoring the secondary re-processing that China has been doing and using the outputs in tertiary remanufacture to make products like chairs, tables and wheelie bins, will boost the Australian economy and create jobs," Ritchie says.
Building the sector
Shmigel says the $150 million investment would go to four main areas. To begin with, everyone in Australia needs to switch to the same recycling bins, at an estimated cost of $28 million.
"In kerbside recycling, there's no standardisation – every council does a different thing," Shmigel says. "That makes processing our recycling much more complicated than it needs to be."
A $33 million upgrade of sorting centres, a $57 million investment in factories that would turn our recycling into usable raw material (like plastic pellets) and a subsequent government commitment to buy $32 million worth of that raw material could set up the domestic recycling economy for success. And the broader economic benefits could be substantial.
"Every 10,000 tonnes of material that we'd recycle would create six jobs, but sending that same 10,000 tonnes to landfill would create only two jobs," Shmigel says. "There are towns in NSW where the recycling programs are the second or third-biggest employer in town, so this is not purely an environmental endeavour – it's a future industry."
New life
Environment Ministers drafted a communique calling on state and federal governments to invest more in recycling infrastructure following China's decision. In an encouraging move, they also pledged to eliminate all packaging going to landfill by 2025.
"We're feeling optimistic that Australia can emerge from the China crisis with a self-sustaining recycling sector," says Shmigel. "There is a lot of work to do, but the outcome of the Ministers' meeting was a real step forward."
Ask your Mercer financial adviser about the Sustainable Investment Policy applied to your investments. Book time to speak to your Mercer financial adviser today: call 1300 850 580.