Who grew your Valentine's Day roses? And what does the rest of the year have in store for growers? We unearth the facts and figures on the Australian flower industry.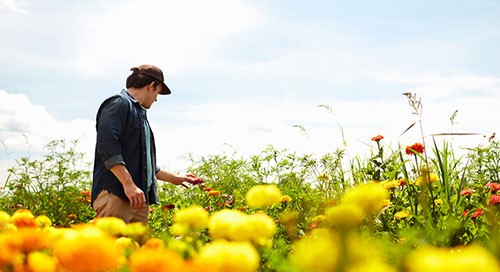 Valentine's Day has come and gone, and with it a collective avalanche of flowers given by trusted partners and secret admirers. The day itself may have passed in a flash, but for the farmers and florists of the $725-million Australian cut-flower industry, it's a key moment that can make or break the remainder of the year.
"The industry reliably experiences a summer slump," explains Owen Brinson, president of Flowers Victoria and board member of the Victorian Farmers Federation.
"Valentine's Day puts flowers back into people's minds."
Trying times
This year, in particular, the stakes are high for growers and florists. According to Flowers Victoria, the Australian cut-flower industry has contracted by about 1.5% in the past few years, due in part to shifting consumer habits and in part because imported flowers are being sold cheaply in supermarkets and online. There are nearly 900 Australian cut-flower growers, which relatively small market fluctuations can impact greatly.
"There has been a big increase in flowers coming from overseas," says Belinda McDermott, co-owner of a small company called The Road Stall that comprises a farm in Monbulk, Victoria and a shop in Melbourne's CBD. "It's a constant thorn in our side."
About 10% of cut flowers sold in Australia are imported but industry efforts to introduce country-of-origin labelling on cut flowers have so far been unsuccessful.
And, according to Brinson, there are other pressures. "In winter, Victorian growers are now punching a lot of money into heating for their greenhouses," he says. "Many people are deciding that it's not economically viable anymore."
Green shoots
Current margins may be slim, but generational changes have given rise to emerging opportunities for potential new entrants. For example, a number of flower farms may soon be up for sale. As McDermott explains, her father emigrated from Holland in the 1960s and, like many of his fellow Dutch immigrants, began farming flowers. "Those farmers are getting old now," she says. "They're all in their 60s or 70s, and many of their children don't want to take over the farms."
Not only that, but Brinson says that the evolving nature of work and retail in Australia – away from standard offices and shops and towards temporary workspaces and pop-up retail – has also created a new market for cut flowers.
"Weddings and funerals have always been a staple, but now we're seeing quite a large increase in event companies hiring florists or even having them on staff to dress up spaces," he says.
For enterprising young growers, 2018 could be the start of a bloom boom.