Economic update: How the first half of 2019 unfolded

A lot has happened in financial markets over the past six months. We take a look at the ups and downs and consider what lies ahead.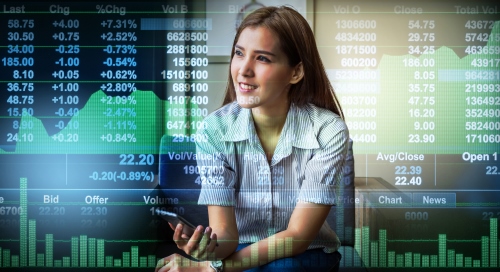 Australian investors were certainly kept on their toes during the first six months of 2019 as they watched the trade war between the United States and China first subside and then re-escalate, interest rates being cut and an unexpected outcome in the federal election.
Simon Calder, Principal at Mercer Investments, says equity markets rallied strongly during the first half of the year despite continuing slowdowns in economic growth especially outside the US.
A big feature has been continuing sharp falls in bond yields in Australia and other economies. Bond markets increasingly reflected the view that some central banks were likely to cut interest rates, and that rates would stay at lower levels for longer than previously expected.
Along with low inflation, concerns that the US-China trade war would hurt the global economy and dent business confidence have been behind moves to cut rates.
"Interestingly, the sorts of tariff measures we've seen implemented to date don't really have a big impact on US gross domestic product," Calder says.
The US economy remains in generally good shape. For the US, it's more about the risk of trade tensions escalating further and expanding to different areas, Calder says.
Global trade war impacts
Overall, the global economy has been slowing, largely restrained by the US-China trade conflict.  
The trade war is also hurting economies in Asia, such as South Korea and Taiwan, and it has pushed China's economic growth to its lowest level in nearly three decades. China's GDP grew at 6.2% in the quarter ended June – down from 6.4% the previous quarter.
"The Chinese authorities have been very reluctant to stimulate growth the way they have in the past, usually by rapidly increasing infrastructure spend and loosening credit," Calder says. "They are trying to balance a need to support growth with a need to reduce debt and crack down on the shadow banking system."
Razored rates
In Australia, the cash rate was reduced in June 2019 for the first time in almost three years, from 1.50% to 1.25%. At the beginning of July, it was slashed again – to 1%, the lowest level in Australian history.
"That's put a rocket under other interest rate sensitive sectors like property trusts," Calder says.
The cuts also helped fuel equity markets. According to online stockbroking firm CommSec, the All Ordinaries Index (which tracks the performance of Australia's 500 biggest companies) rose by 17.3% in the first six months of 2019, ranking Australia 11th out of 72 nations. Greece, Argentina, Russia, New Zealand and China were among the top performers (up by 19% to 42%) while Kuwait, Lebanon, Sri Lanka and Oman were among countries recording the biggest declines.
Local surprises
Australia's share market has also been bolstered by what Calder calls some "idiosyncratic" impacts.
First was the Coalition government's surprise win in the May 2019 federal election.
"The big beneficiaries of this were the banks," he says. "There were some fears that the Labor Party proposal around franking credits would hurt retail demand for bank stocks. Banks make up 30% to 35% of the Australian share market and we did see quite a solid relief rally with the re-election of the Coalition.
"There were also fears that Labor's policies around residential negative gearing would hurt credit growth and demand. Health insurers also benefited. Labor was proposing tougher caps on premium increases than the Coalition."
Another event impacting Australia was the deadly dam disaster in Brazil in January 2019 and the closure of several mines belonging to the world's biggest iron ore producer, Vale.
"Australia has benefited from a surge in the iron ore price," Calder says. "But big miners like BHP and Rio Tinto have been focused on returning capital to shareholders rather than exploiting the situation by increasing supply."
Domestic growth stalls
The housing market downturn in cities such as Sydney and Melbourne has also affected Australia's economic growth, Calder notes.
"It looks like Australia's GDP growth rate will dip below 1.5% through the year to the June quarter – that's the weakest period of growth since 2009," he says.
"One of the factors behind this has been a sharp slowdown in consumer spending, despite quite strong employment figures. But falling house prices and very weak growth in real wages have been the major reasons for the weaker conditions. And there's no doubt the decline in house prices weighed very strongly on consumer sentiment."
Outlook
Looking forward, export volumes and public spending are both expected to provide a solid base for economic growth over the coming year or so, and some of the earlier headwinds to consumer spending growth also appear to be easing.  However, the unemployment rate is unlikely to fall quickly, which leaves open the possibility of further interest rate cuts.
But global economic growth is unlikely to strengthen materially in the second half of the year, as uncertainties linger around the US-China trade relationship, global manufacturers continue to reduce excess inventories, and China still reluctant to ease policy more aggressively.
Uncertaintiy around Brexit is likely to continue to impact growth for both the UK and the Eurozone.