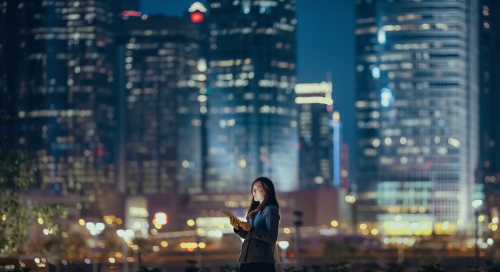 US-China tensions rattle global markets
After an optimistic April, sentiment soured in May as it became apparent that the United States and China would not strike a trade deal ahead of the June G20 summit.
And Donald Trump's announcement at the end of May that the US would impose tariffs on all Mexican imports suggests the President's appetite for trade disputes is undiminished.
What a downer
The Nasdaq fell a hefty 6.52% in the month to 31st May while the S&P 500 dropped 5.33%; but both indices remain up for the year to date, at 14.05% and 11.25% respectively.
Mercer economist Simon Calder says the prevalent mood among US investors over the past month has been worry.
"Most people were predicting a pick-up in global growth in the second half of 2019, but I think it's fair to say now that the risks have tilted to the downside," Calder says.  "The US economy got a big boost from tax cuts last year but that effect seems to be wearing off and there are concerns about what will help sustain US growth."
Seeing red
Calder says the tariffs the US has imposed on China are biting, as is the prospect of a further escalation of trade tensions. What's more, the Chinese are yet to make any bold moves to bolster their economy.
"There was some pretty positive data coming out of China for April, but that softened quite abruptly in May," he says. "If China was prepared to add more stimulus to its domestic economy the same way it did back in 2015/2016 and 2009, we might not even be having this discussion,but the Chinese authorities are very wary of adding more debt into the system."
Down down under
In Australia, the re-election of the Coalition Government provided short-term support for the market. Specifically, investors were glad that the ALP's proposal to toughen up on negative gearing would not go ahead.
"We saw a rally after the election results became known, with banks and financials as the largest beneficiaries," Calder says. "Without that tightening – and with the perception that rate cuts will be coming through and that APRA will be softening its stress test on borrowers – there's a sense that the worst may be behind us in terms of house-price falls, or at the least, there may be a recovery in housing-credit demand coming through."
The positive news domestically helped counterbalance the news coming from overseas, and the ASX 200 ended the month up 0.91%.
Mercer Financial Advice
Unsure how this will affect your retirement plan? Talk to your local advisor now. Mercer Financial Advice has seven offices across Australia – Melbourne, Glen Waverley, Sydney, Paramatta, Brisbane, Adelaide and Perth.