The heavy weight of household debt

With household savings at near record lows and rising levels of debt, some commentators say that middle-class Australians are essentially living in poverty.

While this poverty claim is contentious, financial challenges among pockets of the middle-class are a growing cause for concern.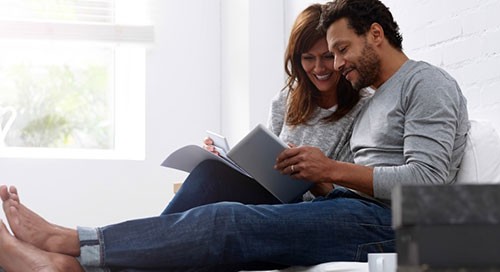 Savings slump
Household savings have hit their lowest level in more than 10 years. Official figures from the Bureau of Statistics (ABS) show household savings fell to 2.1% of disposable income in March this year — its lowest rate since December 2007.
The savings rate is low among the middle class largely because many are overleveraged; gross household debt has reached 190.1% relative to disposable income.
Households have borrowed too much to buy a property, leaving little to fund the essentials let alone put anything extra aside.
This, combined with increases in living expenses, low wage growth and a tendency to overspend on luxury items – the big house, fancy car, overseas holidays and sending the kids to private school – are all contributing to middle-class money challenges.
Overleveraged

Associate lecturer in finance at the University of Queensland Business School, Mark Tanner, says middle-class money issues have been a rising trend over the past 10-to-15 years. He says overleveraging increased from about 20% of households in the early 2000s to 30% of households by 2015-16.
"Of those households with property debt, 62% of 25-to-34 year olds and 51% of 35-to-44 year olds are over-indebted," Tanner says. "This is worse in higher-income brackets compared to lower-income brackets, which may be because banks won't lend as much to those with a lower income."
Tanner says Australians would be more comfortable and more resilient to financial shocks if they had less debt, fewer commitments and higher savings rates. He says families really need to have about nine months of their average expenditure available in liquid assets – easily turned into cash.
"Savings are absolutely critical for households to be able to meet unexpected events in their lives, like having a baby, losing a job, looking after a family member, or temporary loss of income due to an accident, ill health or stress," he says.
"Many over-indebted households are significantly deficient in liquid assets and any unexpected event could cause them to default on mortgage repayments."
Uneasy outlook
The financial problems of the middle-class are unlikely to improve in the future, especially with growing costs of living and limited wage growth. Challenges could also be exacerbated by a rise in interest rates or a forced switch from interest-only to principal-and-interest repayments due to tightening lending standards.
Tanner says the Reserve Bank of Australia and the Australian Prudential Regulatory Authority (APRA) have been trying to tighten up lending standards over the past few years to help reduce excessive household debt.
"But at the end of the day, it's essential for households to realise the risks they're taking when purchasing housing," Tanner says.
Ask your adviser
Your Mercer financial adviser can help you consolidate debt and prioritise saving and spending to make the most of your financial opportunities. Mercer Financial Advice has seven offices across Australia - Sydney, Melbourne, Paramatta, Glen Waverley, Adelaide, Perth and Brisbane.