Trade wars and uncertainty rule markets.

After a month of record local highs and a US rate cut, financial markets are now focused on the continuing US-China trade tensions and uncertainty around Brexit.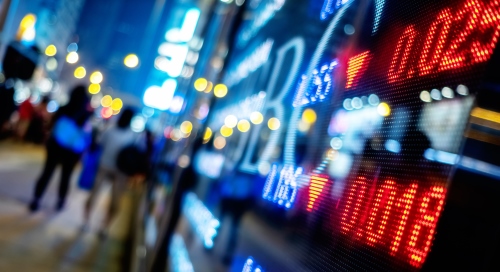 The US Federal Reserve cut interest rates for the first time since 2008, a dramatic move that buoyed investor confidence both in the US and globally. However, the positive impact was tempered by President Donald Trump's announcement that tariffs would be imposed on all remaining Chinese imports, feeding fears of an extended period of economic uncertainty.
Trade wars roll on
Trade disputes were one of the principal reasons cited by US Federal Reserve chairman Jerome Powell for dropping the cash rate by 0.25 of a percentage point at the end of July.
Mercer Investments principal Simon Calder said investors were bracing for tougher economic times ahead because of the potential fallout of the trade war. This comes despite a strong showing on local and global markets in July, a rate cut by Australia's Reserve Bank and a corporate profit reporting period without too many nasty surprises.
"The fact that the US has announced it will apply a 10% tariff to the remaining merchandise imports from China sent a signal that the US doesn't seem particularly keen on any sort of meaningful trade agreement with China," Calder said.
The S&P 500 was up 1.31% for the month of July, a notable drop on the 6.87% rise recorded in June, whereas the Nasdaq 100 was up 2.3%, the Dow Jones Industrial Index was up 1% and locally the ASX 200 hit historic highs.
"Before the trade tensions escalated at the end of the month, the big theme was the continued decline in global and Australian bond yields, as growth continued to slow and as markets increasingly anticipated interest rate cuts among the major central banks," Calder said.
By early August the Australian 10-year bond yield was at record lows, and Calder said the issue was intrinsically tied to broader concerns about international trade.
Alongside the US-China disputes there was a knock-on effect on the performance of emerging markets in July, particularly in East Asia.
Brexit uncertainty continues
There has also been growing concern about a no-deal Brexit in the United Kingdom, where Boris Johnson became the new Prime Minister in July.
"If anyone says they know how Brexit is going to unfold, then I'm not sure I believe them. But my perception is that the risk of a no deal on October 31 has lessened slightly, as Parliament is positioned to potentially block that happening," Calder said.
"It all seems very fluid over there at the moment, and that is already against a backdrop where some second quarter GDP data was released for the UK that showed the UK economy contracting under the weight of all this uncertainty."
Local optimism
In Australia the market's reaction to August full year reporting season will be coloured by the ongoing movements in the uncertain global environment.
"The bottom up forecasts still look very optimistic, with the expectation of a strong recovery in earnings growth in the second half of 2019 and into 2020," he said.
"However, I think the sense is that with this last round of proposed tariff increases, the US has boxed itself into a corner to some extent. I don't think there is much sense that China is prepared to give any more ground, so this is going to be a long, drawn out negotiation."  
The global economy may be uncertain, but you don't need to be.
Book an appointment with a Mercer financial adviser today and map out a future you can be confident in. Mercer Financial Advice has seven offices across Australia – Melbourne, Glen Waverley, Sydney, Parramatta, Brisbane, Adelaide and Perth. 
Call 1300 850 580