Practice makes for a perfect retirement
Robert Power has retired three times but this time it seems to have stuck.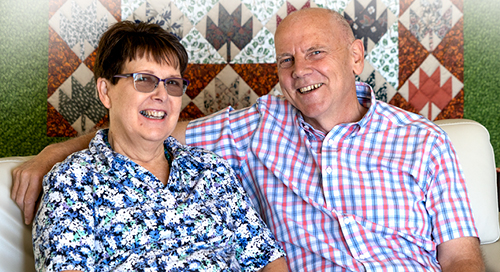 A skilled engineer with four decades of experience in the construction industry at home and abroad, Rob first hung up his hard hat, however briefly, in 2012. He tried again in 2015, going so far as to sell up the family home in Sydney and make the sea change to Buderim on the Sunshine Coast.
But like Michael Corleone in The Godfather Part III, just when he thought he was out, "they pulled me back in".
"We'd literally just moved in and found a place for everything when I got a phone call and started working back in Sydney three days a week," Rob recalls.
"After I retired my employer kept ringing me up saying they had a problem and asking me to help them out. I couldn't resist the challenge so I went back for a year, but after a while your priorities change and I finally decided enough was enough."
Living the dream
The focus is now enjoying life with his wife Diane; travelling the world, spending more time with their grandchildren and settling into their dream lifestyle in sunny Queensland. That's all been made possible by careful planning and good advice.
"It's been just over two years since I retired from my working life the last time and it does take some adjustment," Rob says, "but the work we've put in with Mercer over the years means we have the financial security we need to enjoy this next phase of life."
As a strategic thinker and above all, a planner, Rob is never too far from a spreadsheet. Whether he's planning a holiday, an irrigation system for the garden, a new workshop or the family finances he relishes the details.
"I don't necessarily go to the extent of detailed drawings any more but I have a pretty good understanding of exactly what I'm going to do before I get started on anything," Rob says. "I know in my mind exactly what the outcome will be and something fairly severe has to happen for me to change that plan."
Diane is a little more laissez-faire in her approach to life, with a passion for patchwork and quilting, she brings an artistic streak to the household.
Diane says she picked up the quilting bug during the couple's 'expat years' throughout the 1990s, when Robert played a key role in his employer's expansion into Asia, managing the construction or operation of plants in Taiwan, Bangkok and China.
"Quilting kept me sane while I was following Rob around Asia and is still my main passion; it's what gets me out of bed in the morning," Diane says. "I've made quilts for our three children and our grandchildren and there's a fair bit of it around the house; anything I leave out the cat sleeps on.
"I'm OK with money and I do plan, but a lot of it's in my head. I don't do the spreadsheets and I probably don't do the forward planning that Robert does. We make a good team."
Team up with specialists
Rob says retirement doesn't exactly demand the same problem solving mindset he brought to his years in the construction industry, but it helps.
"One thing you do learn when you're building factories, solving problems and managing large numbers of people is that you don't know everything; you need specialists," he says.
"By sourcing people with knowledge and expertise and bringing them on board, the result is always better. That's been our thought behind having a financial adviser.
"Sure, I do my spreadsheets and I'm keenly interested in the outcomes but I don't have the specialist knowledge. It's important to have someone who's doing this 100% of the time as part of the team looking after your finances."
In the Powers' case that expertise comes from the Mercer Financial Advice team.
"The team has provided insight into financial pressure points and how they may impact on us – whether they be from financial markets or political changes – and they're aware of underlying assumptions that we're not across and don't need to be," Rob says. "All we need to do is make sure that we're on track and sticking to the plan."
Confidence is king
Confidence is one of the most important things a financial adviser can provide and that's certainly been the case with Rob and Diane.
The Powers have been through the Global Financial Crisis and understand that things go up and down but they don't panic about negative investment headlines because they trust the strategy that Mercer Advice has put in place with them.