Vietnamese legend has it that the Vietnamese are all descendants of Lac Long Quan, directly translated as "Dragon Lord of Lac", and his wife Au Co, who gave birth to a golden sac containing 100 eggs.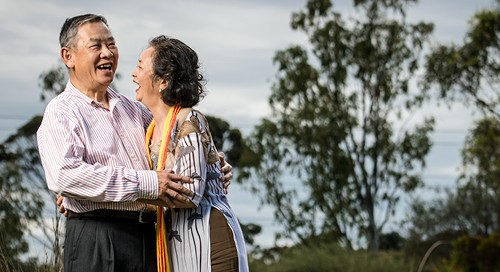 That golden sac will be on display on the roof of the planned Vietnamese Museum Australia. It's a powerful message: we're all part of one family.
For Phuoc Bui-Quang and his wife Kim, those values of connection and family lie at the heart of their lives.
When they arrived in Australia as political refugees during the Vietnam War, they knew only one person: Kim's brother. Tragically, and like so many others during that time, her father perished when the refugee boat he and his family sailed on was attacked by pirates and capsized.
On landing in Brisbane, the pair spoke only a smattering of English words. Kim remembers dock workers telling her that if she wanted to sound like a local, she should insert the word 'bloody' into every sentence. "It was only later when I signed up to English language classes that they told me that was not…quite ladylike," she laughs.
Moving to Melbourne meant finding other people who had been through the same experiences. They were welcomed with open arms and became part of the community. Now, they want to give back.
Bui was employed at Ford for 38 years, retiring in 2016. Kim, a qualified town planner, worked to make her local area better every day.
By making sensible financial decisions for himself and his family, Bui and his wife were able to look forward to a comfortable retirement. When the day came, though, they found themselves with a lot of passion left over.
Beyond the numbers
Bui came to Mercer to talk to financial adviser Shaun Cossart-Walsh, who had been helping him make decisions for his financial future. While he was assured of an independent retirement, Bui wanted to look beyond the numbers.
"Bui was passionate about the Museum," says Cossart-Walsh. "He said it wasn't enough that his own family was comfortable. He wanted to contribute to his community and live his values. We talked about the project and what it would involve. I was able to give him some advice on how to approach people for funding."
Bolstered by Cossart-Walsh's encouragement, Bui and Kim are using their retirement to speed up rather than slow down. They're heading up the Design and Construction team for the ambitious new Vietnamese Museum Australia.
Spearheaded by the Vietnamese Community in Australia (Victoria Chapter), the project has been in the works since the 1990s, and has now secured enough funding to move ahead; one third coming from the State Government, one third from the Federal Government and the community is earnestly trying to raise the balance required. Plans are being submitted to the Maribyrnong City Council for approval now, and the group hopes to see building works commence by the second half of 2020.
Giving something back
"We said that we'd volunteer our time. I originally just thought I'd be driving people around," says Bui. "I ended up a lot more involved than that."
Bui and Kim describe themselves as 'breathing and sleeping' the Museum, so great is their enthusiasm for the project. In fact, they're busier than ever before.
"We've had a very good life. We couldn't have done it without our friends and family. So we decided it was time we gave something back to the community."
The hard work is worth it. They've been able to help shape every aspect of the Museum, from the shape of the building to its contents. The inside of the building will contain a physical journey, allowing visitors to travel through time from pre-war Vietnam to present-day Australia along a timeline that reflects the Vietnamese experience.
In fact, it's a physical manifestation of the values by which Bui and Kim live their lives.
Thanks for everything
"The Museum is about preserving and showcasing our heritage. But it's also about saying thank you. Thank you
to the other Vietnamese people who helped us settle in. Thank you to the Australians who welcomed us to their country. Thank you to Mr Malcolm Fraser, whose policies saved so many of our lives after Saigon fell.
And thank you to the Australian men and women who made the ultimate sacrifice and gave up their own lives in the Vietnam war."
Those names will be commemorated in the Memorial Garden.
With hard work, careful planning and expert advice from Cossart- Walsh, Bui and Kim are in a fortunate position. But they don't take their good fortune for granted.
That's why it has been so important to them to spend their retirement living out their values.
"I tell our grandchildren how lucky they are to be Australian and to live here," says Bui. "They don't understand. The museum will help them see what it means to be lucky.