Martin Gunasilan is a cosmopolitan guy; he speaks four languages, has worked, lived and travelled across three continents and blows off steam by singing tenor in his home-town choir.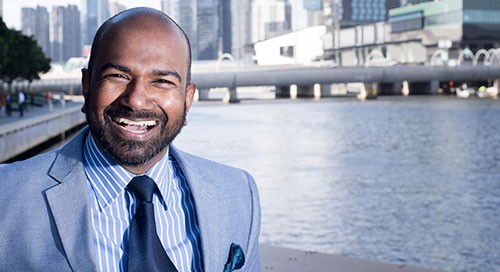 He is also an excellent listener; a quality perfectly suited to both his professional role at Mercer – where he reaches out to customers at key life moments – and his soon-to-be-realised ambition to become an Anglican priest.

At the heart of his day to day work and his vocational training is a simple mission statement: to help create better lives.
"My upcoming role in the church is to journey with people, to walk with people and be sort of a living signpost," Martin says. "When I talk to customers it's about discovering what's important for them right now and to help them prepare for their future.
"In both cases, it's about offering hope and helping people see the world in a positive way."
Martin is passionate about people and their well-being. So while his essential role at Mercer is to help customers sort their superannuation and think through their financial goals and commitments, his daily conversations often go much deeper.
"Two months ago I spoke to a customer who had just turned 60," Martin says. "I asked how he was and he said 'Martin thanks for calling but I'm struggling – I can't even hold an apple in my hand'.
"He had just been diagnosed with Motor Neurone Disease; slowly his system is shutting down. He told me he had a BMW in the garage which he couldn't drive."
There were financial concerns which had understandably been pushed to the bottom of the customer's `to do' list but were also adding to his daily stress and making it more difficult to deal with the diagnosis.
"He said, 'I really don't know what to do' and I asked if he'd had a conversation with anyone," Martin says. "He said he hadn't because 'I didn't think this would ever happen to me' but 'this call is very timely'.
"An adviser went to see him at his home and when they came back they said that customer was absolutely inspirational – they'd never seen such optimism and positivity. They were blown away by it.
"These are the stories I listen to day in day out. There are a lot of people who need and want help but they put things aside or they are just too busy with life. We say 'If you don't know what to do, let me know and we'll guide you'.
"I think we have created a lot of better lives over time because of these phone calls."
Martin has lived in Ballarat for 11 years and commutes daily to Melbourne to work. He is studying theology at the University of Divinity in Melbourne with a view to becoming an ordained priest in the Anglican Diocese of Ballarat.
He is, naturally, actively involved in the local community.
"There are a lot of people who need and want help but they put things aside or they are just too busy with life."
When Malaysian Airlines flight MH17 was shot down over Ukraine in 2014, Martin organised a memorial service to commemorate the 283 lives lost in the tragedy; a tragedy that held a special significance for him.
For 13 years he worked for an international air express company based in Malaysia. He looked after the European sector working on increasing productivity. Part of his role was to keep track of MH17 to ensure packages were delivered on time.
"When MH17 was downed it was quite personal for me, so I initiated a local memorial service. More than 200 people attended," he says. "I really wanted the Ballarat community to come together and say no to war and yes to peace. I wanted to bring young people back to church and I wanted to get that message across."
Martin will be ordained in October as a Deacon but plans to stay at Mercer for at least two years while he completes his studies.
In the long-term, Martin aspires to work as a corporate chaplain; a goal borne from his experiences at Mercer where his pastoral training not only informs and drives his work with customers but also and his relationships with coworkers. His team recently lost a colleague to cancer and he was able to draw on his pastoral skills.
"The role that I play in the church brought to light what I can bring to a corporate role," Martin says. "It's about sitting down with some of my colleagues, even my bosses, and just listening to them. There were some tears, some just want to talk and some struggled to understand why this had happened to a person who was so beautiful in so many ways.
"I don't have the answers, but if all I can do is sit next to them and listen, that can be a big help."
Martin is positive and inspirational and all about humanity. If you're a Mercer customer and you receive a call from him or any of the team, do take the opportunity to block out some time: it might be the best investment you make all day.
"When I talk to customers I put aside profitability and everything else; it's about helping them do what they actually really need to do," Martin says.