Miss independent - Karen's retirement story

Juggling family, work and study for many years did not halt Karen's desire to rid herself of debt and achieve financial independence.
'It is crucial for every person, men women, to understand their finances now and in the future' - Karen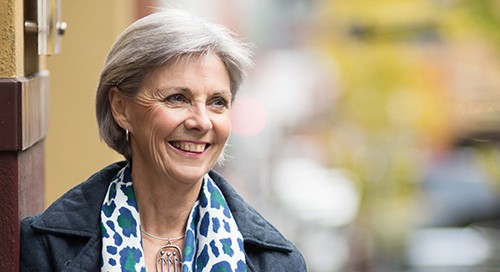 Karen worked part-time for more than 20 years as an IT consultant and accounts clerk; she also ran a household and raised two girls. Her career and financial future were not her top priority.
When she finally had a good hard look at her books, it wasn't a comforting sight.
"My savings were nil, my super was minimal and I probably only had 15 years to provide for my retirement," Karen says.
"My daughters are nine years apart, so I was family-focussed for an extended time; my former husband and I worked hard to provide the best we could for our daughters.
"Once I resumed full-time work, when I was nearly 50, I started to realise that I needed to plan for my future."
Karen completed a post-graduate diploma in accounting – "which I loved, but it was difficult working, studying and raising a family; and expensive when we still had school fees and other costs for our two daughters".
She stepped into a role as business consultant for a car rental company; the perfect job, combining her IT, accounting and business skills. And, with the increased salary she could demand, the cost of the diploma was recouped in one year.
"In mid-2000, I had to buy somewhere to live. I was married for 29 years, but now I'm single and I love my independence. I'm often called `Miss Independent' because I like to have control of my life," she says. "You never know when your circumstances may change and you have to make some big decisions that impact on your financial position.
"It is crucial for every person, men and women, to understand their finances now and in the future."
In her role as business manager at a Melbourne school – "enormously challenging, hugely varied and the pinnacle of my career" – Karen was familiar with the basics of superannuation.
"But it's complicated and Mercer, as the fund's administrator, was always helpful with questions staff had and, as I was a member of the fund, I also engaged Mercer to provide individual advice."
Karen spoke to Mercer financial adviser Helen Angwin about establising a transition to retirement pension and took full advantage of the generous super contribution caps available at the time. She paid off her mortgage and she lived well and truly within her means.
"Once I'd paid off my mortgage, with Mercer's advice I decided to semi-retire at 63, then undertook part time work,' she says.
"My part-time work provides supplementary income to my allocated pension so I live comfortably and am enjoying the freedom of semi-retirement.
"I would definitely recommend people seek expert advice and keep themselves informed."
Now, at age 64, Karen is still planning ahead, putting money aside to meet future health expenses – "even though I am very healthy now" – and making prudent lifestyle choices – "I don't eat takeaway and I don't waste money on Tattslotto!".
"As I approach full retirement I am even more focussed on ensuring I will have sufficient funds,'' she says. "Financial freedom is the ability to make choices and I want to be sufficiently independent to make choices for myself."
Photos: Andy Drewitt.