Informed and in control; young mum and scientist Aleksandra says dedicating time and energy to building financial literacy has broadened her worldview and her opportunities.
I try to treat finance as another branch of science, based on knowledge and formulas; I see it as a field of knowledge that can be learned and applied." - Aleksandra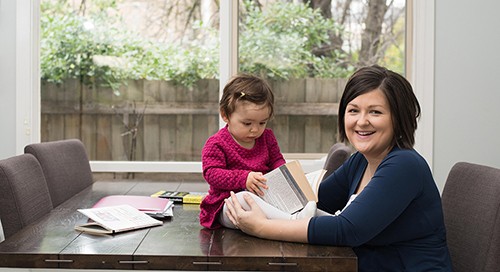 Melbourne mum and scientist Aleksandra has embraced financial literacy as a path to independence and freedom of choice.
Growing up and living in Poland in the late 1980s to 2006, at a time when discussing money could earn you a prison sentence; Aleksandra always knew she wanted more from life, including financial freedom.
"We lived under a Communist regime until I was aged five and it was illegal to discuss money – sometimes punishable by imprisonment," Aleksandra says. "Older generations, and even my own generation, have found it difficult to move on."
In her early 20s she travelled to London on a £1 ticket. Heartened by a warm summer, she was optimistic, despite having very little grasp of the English language and even less money in her pocket.
"I hit rock-bottom in London. I lived in a hostel for 18 months, worked in a sandwich bar and had little money to support myself," Aleksandra says. "It was very challenging trying to create a better life for myself, but I was extremely determined; I learned English and then completed my Master of Biomedical and Molecular Science Research at Kings College."
She was nervous about the cost of gaining a Master's degree, but looking back Aleksandra describes it as her best investment; "a little asset that grows with every pay slip". She says all young women should invest in themselves and to strive for a better life.
"A portion of my pay is directly the result of me having a Master's degree and my willingness to take risks, be bold and always strive for a happy in life," she says. "I now live comfortably and am driven to get ahead in life by saving and planning, to support my mother and family."
While studying and working in London, Aleksandra met her future husband, Chris. The couple moved to Australia in 2010, married and bought a home where they live with their 17-month-old daughter, Sophie.
Aleksandra says she and Chris set their financial goals together; including paying off their mortgage, investing in higher education for themselves and Sophie and growing their superannuation through salary sacrifice.
They are financially disciplined, she says, keeping each other up to date on daily spending and planning larger upcoming purchases on weekends, using the power of the internet to search for good deals.
"I try to treat finance as another branch of science, based on knowledge and formulas; I see it as a field of knowledge that can be learned and applied," she says.
"I learned some hard lessons in London and I never again want to feel out of control or helpless due to my financial situation.
"We both contribute to earning an income so I believe it's essential to work together to plan expenditure and achieve our financial goals; we are a team."
The couple engaged Mercer financial adviser Helen Angwin about three years ago and regularly meet with her to keep their financial plans remain on track and to put measures in place to ensure they can maintain our good standard of living in retirement.
"Helen took time to get to know us; she truly wanted to understand our backgrounds, values, influences and goals," Aleksandra says.
"My whole experience of life and the opportunities available to me have broadened significantly since dedicating time and energy to building my financial literacy, and getting advice where I can."