Staying the course reaps rewards

Bill and Glenys Parry could hardly have retired at a worse time; but they had a plan and they stuck to it, despite the fear and uncertainty of the Global Financial Crisis. Ten years on and they "wouldn't change a thing".

The headline news was bad and the bottom line for most investors looked certain to take a dive; 2008 was not an ideal year to 'chuck in your job'.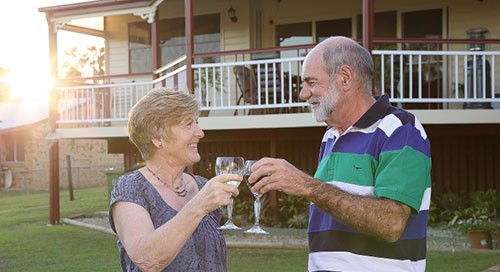 Bill & Glenys Parry retired on the cusp of the Global Financial Crisis; 12 months in and their "retirement dreams" were looking shaky along with the markets.
"It was daunting the way the finances were going and you do worry, you can't help that," Glenys says. "A lot of people around us were taking their money and putting it into cash. It wasn't an easy time."
But the couple had a plan, developed in partnership with Mercer financial adviser Stephen Bury; and they were determined to stick to it.
"We were concerned, but because of Stephen's advice we decided to stick to the plan, despite what those around us were doing," Bill says. "He told us to hang in there and to this day we're grateful for that."
Putting a plan together
The couple began their advice relationship with Stephen some 10 years earlier while living and working in Gove; a small town of roughly 4000 people built around a bauxite mine and processing plant in the Northern Territory, where Bill initially plied his trade as a fitter and turner and Glenys turned her hand to drafting.
They were earning good money and enjoying the lifestyle of a small and remote community; road access was limited to six months a year but opportunities for camping, fishing and good times with family and friends were abundant. Houses were all owned by the mining company and rented out to workers and their families.
"We really enjoyed living there; there were 4,000 people and 47 nationalities and everyone loved sport; It was an extremely good and safe lifestyle for raising children," Bill says. "It had its dangers – snakes and crocodiles were an issue and in the earlier days it was very common to find a buffalo in the garden or wandering through the town when you got up before work.
"On the golf course at times it could be an experience; you had to keep one eye on the ball and the other on the buffalo in case it charged. But you got used to those things."
As much as they enjoyed the lifestyle, the Parry's put together a plan to leave, to retire early and debt-free with a comfortable nest egg and a place of their own. They bought shares via managed funds, purchased property and started salary sacrificing to super.
Wouldn't change a thing
Bill says that annual advice meetings – and more frequent email correspondence - helped keep them on track and in 2005 they borrowed to buy their dream block of land and build their future home.
"We had a budget that we stuck to and just being able to send off an email and ask questions and get that help along the way was all we really needed," he says. "It all went very much to plan and we left Gove in 2008, very happy with where we'd ended up."
Having weathered the GFC and come out on top, Bill and Glenys have learnt a great deal about planning for inevitable 'dramas'.
"There are some new and interesting challenges facing the world at the moment, particularly how President Trump goes about things, but there will always be some kind of "drama" happening locally or internationally," Bill says. "Our guidance to folks nearing retirement is to get some quality advice from someone you can trust, and have a clear plan for how to absorb the inevitable bumps along the way.
"If you've got a realistic plan about how you want to live when you retire and a plan as to how you're going to achieve that, there's every chance you'll get where you want to be," he says. "We've come out very well and I wouldn't change a thing."