Cutting carbon emissions for next to nothing

Australia can meet its 2030 greenhouse emissions target at zero net cost, according to new research by the Australian National University.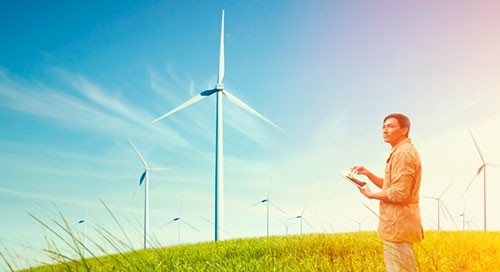 This is because the cost of electricity from new-build wind and solar will be cheaper than replacing old fossil fuel generators with new ones.
"Encouragingly, the rapidly declining cost of wind and solar electricity means the net cost of meeting the Paris target is roughly zero."

-Australian University researchers Professor Andrew Blakers, Matthew Stocks and Bin Liu
According to the researchers Australia is currently installing about three gigawatts per year of wind and solar energy; fast enough to exceed 50 percent renewables in the electricity grid by 2030. It's also fast enough to meet Australia's entire carbon reduction target, as agreed at the 2015 Paris climate summit.
Considering all options
The research modelled the total cost of electricity under three different scenarios:
-Renewables: replacement of enough old coal generators by renewables to meet Australia's Paris climate target.
-Gas: premature retirement of most existing coal plants and replacement by new gas generators to meet the Paris target.
-Status quo: replacement of retiring coal generators with supercritical coal power stations, designed to work at much higher temperatures and pressures which increases efficiency.
Researchers found electricity would cost roughly the same under the renewables scenario as it would under the status quo, regardless of what happens to gas prices.
The cost of renewables includes both the cost of energy and the cost of balancing the grid to maintain reliability. This balancing act involves using energy storage, stronger interstate high-voltage power lines, and the cost of renewable energy "spillage" on windy, sunny days when the energy stores are full.
Stability and Reliability
Most of Australia's fossil fuel generators will reach the end of their technical lifetimes within 20 years. In the "renewables" scenario, five coal-fired power stations would be retired early by an average of five years. In contrast, meeting the Paris targets by replacing coal with gas requires 10 coal stations to close early by an average of 11 years.
The researchers, Professor Andrew Blakers, Research Fellow Matthew Stocks and PhD candidate Bin Liu, say renewables will provide a highly reliable grid due to a diverse mix of generators: solar (26 GW), wind (24 GW), coal (9 GW), gas (5 GW), pumped hydro storage (5 GW) and existing hydro and bioenergy (8 GW).
They say sudden shocks to the electricity system from generator failure – which occur regularly with ageing large coal generators – are unlikely because a renewable electricity system comprises thousands of small generators spread over a million square kilometres.
Strengthened interstate interconnections, part of the cost of balancing a renewable energy grid, reduce the impact of transmission failure, which was the prime cause of the 2016 South Australian blackout.
Since 2015, Australia has tripled the annual deployment rate of new wind and solar generation capacity.
"Continuing at this rate until 2030 will let Australia meet the entire Paris carbon target in the electricity sector, all while replacing retiring coal generators, maintaining high grid stability, and stabilizing electricity prices."
The original article first appeared on The Conversation.