How batteries are lighting up our energy future

Electricity used to be like mains water – consumers had no say in where it came from and prices were dictated by a handful of retailers.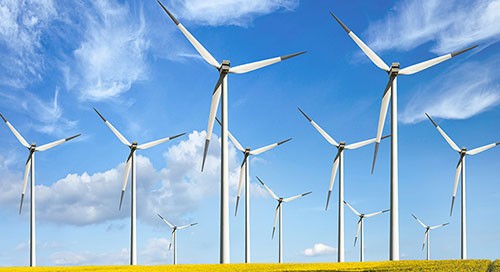 But as Australia slowly moves towards a clean-energy future, rapidly advancing technologies in wind and solar generation, along with battery storage, are giving households and businesses the power to generate and store their own electricity, signalling a seismic shift in how the nation keeps the lights on.
Dealing with disruption
A major review of Australia's energy sector by chief scientist Alan Finkel was recently delivered to the Federal Government. In his Press Club address that accompanied the report, Finkel noted that "until about a decade ago we had enjoyed a hundred years of technological sameness. Electricity generation technologies got better decade by decade, but they were fundamentally the same as their predecessors."
Today, the advent of disruptive technologies has upended those trends both in Australia and across the globe. One of the major advances is thanks to what Finkel termed the "stunning improvements in battery capacity and cost".
Batteries are now being manufactured for use on a large scale and, says Finkel, "are being installed internationally at a level and cost that were unimaginable five years ago. And sitting right alongside, we have the prospect of pumped hydro storage, for which many sites have been identified in Australia, including the Snowy Mountains."
In Australia, despite this revolution, there are divergent ideas about how best to shore up baseload (or minimum demand) supply. Australia's Renewable Energy Target aims for 23.5 per cent of electricity to be derived from green sources by 2020. While there is contention about how this could best be achieved, battery storage forms a big part of the solution, as demonstrated by South Australia's recent energy meltdown, which highlighted the shortcomings of renewable energy's sometimes intermittent supply.
The South Australian government has announced a $550 million gas-fired power station and battery, and has already received 90 expressions of interest to build the storage unit – one from Tesla among them. Meanwhile, the Federal Government is hinging power security on its proposed $2 billion expansion of the Snowy Hydro-Electric Scheme, which would boost output by 50 per cent.
The Grattan Institute's Energy Program director, Tony Wood, predicts very strong solar growth in coming years, particularly on a commercial scale. But for small-scale users, he says network pricing needs to change from volume-based tariffs to a time-based system. This would incentivise households to use batteries to alleviate demand on the grid during peak times and reduce the cost burden on infrastructure.
Competition driving innovation
For households, the cost of a solar-panel system is less than a quarter of what it was a decade ago. And batteries, like Tesla's Powerwall, are delivering improved on-demand supply – power when households need it most, even on cloudy days – which is making home solar more cost effective than ever before. As a consequence, "battery storage is poised to be the next major consumer-driven deployment of energy technology," says the Finkel report, which forecasts that 100,000 household solar batteries will be installed by 2020.
Competition for the home-battery market is fierce. Tesla is leading the charge with its Powerwall lithium-ion battery units, which have 13.2 kilowatt hours of storage, while Panasonic's smaller 5.2kWh battery, using similar technology, is also claiming a stake in the market. Another player, California-based Enphase Energy, says it received orders for 60,000 of its 1.2kWh batteries within two weeks of hitting the market last year.
Then there's Printed Energy Pty Ltd, which is developing paper-thin printed batteries that could be in-built within solar panels within three years. Another Australian innovator, Redflow, has manufactured a longer-lasting zinc-bromine battery, ZCell, which it plans to target the industrial and telecommunications markets.
Green power gets cheaper
In concert with the battery revolution, the Clean Energy Council's director of smart energy, Darren Gladman, says that solar and wind are now the cheapest modes of power generation that can be built today. And we can expect the energy sector to become less centralised in coming years as small-scale green power generation and battery storage muscle in on the big power stations.
"Home owners have already recognised that solar can help them save on their power bills and, as energy storage units get cheaper over the next few years, these units can maximise the value of home renewable energy investments," Gladman says.
There's also a change in the industrial market as well as the domestic. "One of the biggest trends we are seeing from the United States is that big businesses are acting directly to either build their own renewable energy or buy it from a third party such as a wind developer," Gladman says.
The transition to a new energy future won't be seamless but with wave of technology arriving in the coming years, the shift is inevitable. And batteries will play a driving force behind that. As Finkel says, "Disruptive technology has lived up to its name."
Mercer Financial Advice
Interested in finding out how this affects your investment? Talk to your local advisor now. Mercer Financial Advice has seven offices across Australia – Melbourne, Glen Waverley, Sydney, Paramatta, Brisbane, Adelaide and Perth.