Salary Sacrifice
By adding a little extra to your super now, you're growing your super balance for the future. Salary Sacrifice is simple way to help you achieve this. Plus, there are some great tax benefits. So while your super is growing, you're also saving on tax.
Salary sacrifice is an arrangement with your employer, where you can ask them to add some of your pay (before tax) directly into your super. You can nominate a dollar amount or a percentage.
Just complete the form online and send it to your employer. It's that easy.
Why should I salary sacrifice
1. Tax benefits
When you salary sacrifice into your super, it's taxed at a rate of 15% (or 30% if you earn $250,000 a year or more), while your income can be taxed anywhere up to 47%. That means more for you when you retire.
2. Grow your super
If you set aside $100 from your weekly pay, you'll get $146.20* in your super. That's an extra $46.20 for you.
Over time this extra money will compound and could add an extra $268,858 to your final super balance.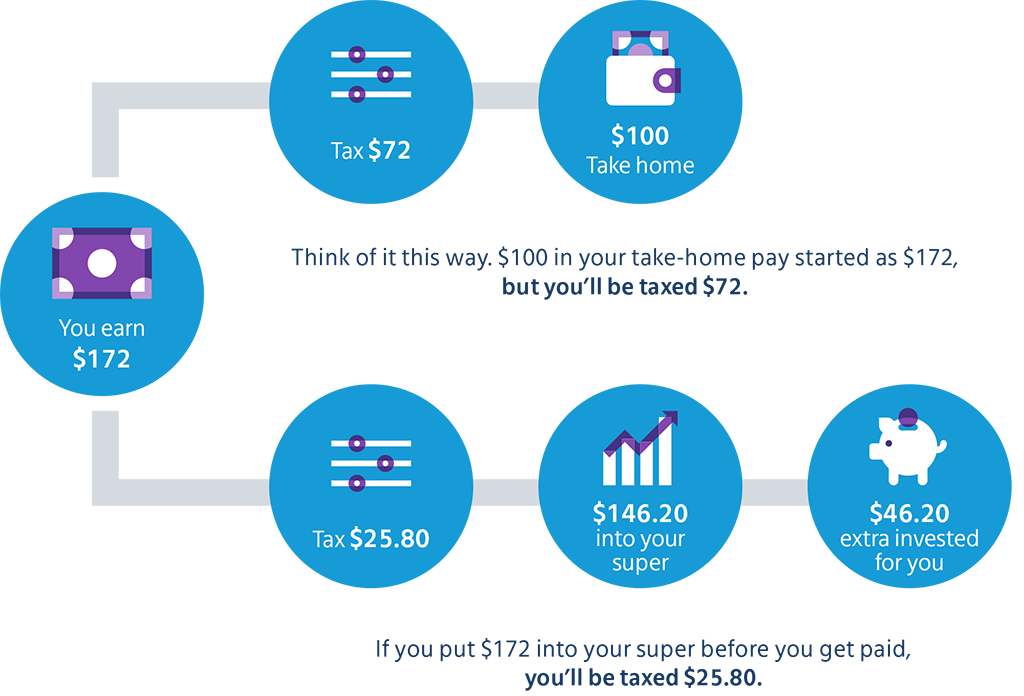 How much should you salary sacrifice?
It depends on your situation and how much you can afford. It's also good to consider other contributions you already make to super, so you don't exceed the concessional contributions cap of $25,000.
Here's a guide based on an annual income of $100,000 a year.
| Set aside from your weekly pay | Tell your employer to salary sacrifice | Income tax savings at retirement | Bonus super at retirement |
| --- | --- | --- | --- |
| $50 | $86 | $24,207 | $134,429 |
| $100 | $172 | $48,414 | $268,858 |
| $150 | $259 | $72,621 | $403,287 |
| $200 | $345 | $96,828 | $537,716 |
| $250 | $431 | $121,034 | $672,145 |

How to salary sacrifice
To get started, complete the form online today and send it to your employer to set up for you.
Calculation assumptions
*Rate of return 6.6%pa over 20 years. Contributions of $172 from gross pay made on a weekly basis throughout the period, starting at age 45 and finishing at 65. Tax calculations based on a taxable income of $100,000. Assumed adjusted taxable income between $37,000 and $180,000, such that only 15% tax paid on contributions and no rebate applies. Actual dollar values used with no adjustment for inflation. Difference in returns (which may be positive or negative) and fees will alter the outcome. Contribution caps have been assumed not to be exceeded. Rates current at 1 September 2020. The example shown may not apply to your own situation, so we recommend you consider your options carefully and seek financial advice about salary sacrifice. Salary sacrifice arrangements are subject to employer approval. Past performance should not be relied upon as an indicator of future performance.