Upgrade your future with salary sacrifice
Everyone loves an upgrade; whether it's a promotion to business class or a step-up to the 'presidential suite' for your weekend getaway, there's nothing better than an unexpected bonus.
Well, you can upgrade your future right now by taking a few simple steps to bolster your super with salary sacrifice.
All you need to do is ask your employer to redirect some of your pre-tax pay and put it in to your super account. Even the smallest amount today can make a big difference to your tomorrow.
Here's how it works
If you earn between $80,000 and $180,000 a year, you pay up to 39% income tax. But your super fund pays tax at a special rate of only 15%~. So if you're putting more money in super and reducing your pay packet, you'll benefit from paying a lower tax rate on the extra money that goes in your super.
$100 could mean an extra $255,738 in the future
If you set aside $100 from your weekly take-home pay, you'll get $139.40 in your super#. That's a $39.40 bonus. You get this bonus because you're paying the special tax rate. Over time this bonus will compound and could add an extra $255,738 to your final super balance.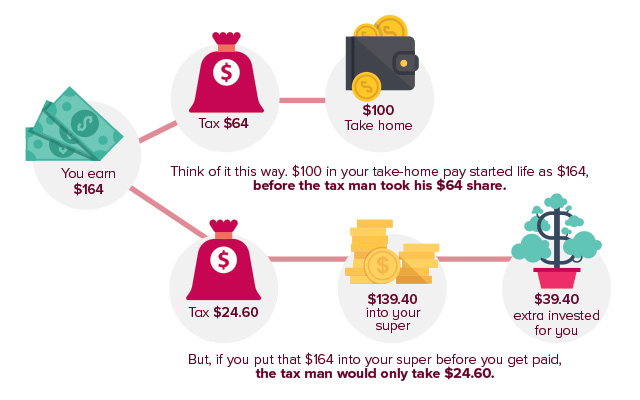 The key is to start now
Upgrading your future is easy. Simply complete the sample form and give it to your employer. If your employer has their own process, that's fine, they'll still need the same information we've outlined below.
How to set it up
Speak to your payroll or HR department to set up a salary sacrifice arrangement today. You'll need to tell them how much you want taken out each pay cycle, in either 'percentage' or 'amount'.
For example, if you're earning $100,000 and you want to contribute $100 from your weekly take-home pay, you would tell your employer to take out $164 pretax (or 8.5%). Check out the highlighted row in the table below.
Remember, you're taking the money from your pre-tax pay, so the equivalent pre-tax amount is more.
How much is enough?
It depends on your personal situation and how much you can afford to give up. But even the smallest amount can make a difference.
Here's an example of what it could look like for someone earning $100,000:


| Set aside from your weekly take-home pay | Tell your employer to take out pre-tax | Income tax savings for retirement* | Bonus super at retirement*# |
| --- | --- | --- | --- |
| $50 | $82 (4.3%) | $20,488 | $127,869 |
| $100 | $164 (8.5%) | $40,976 | $255,738 |
| $150 | $246 (12.8%) | $61,464 | $383,607 |
| $200 | $328 (17%) | $81,952 | $511,476 |
| $250 | $410 (21.3%) | $102,440 | $639,345 |

Talk to someone who knows

Get some good advice and book an appointment with a Mercer financial adviser today.
You may also like